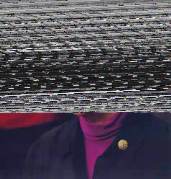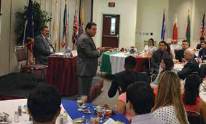 It's not often that a Texas
Senator leads a class at Texas
A&M International University
(TAMIU). But if that Senator is an
award-winning communicator with
a Ph.D. in the field and a lifetime
of experience…yes, that's who
you'd want leading the class.
That Senator was Dr. Judith
Zaffirini, whose lecture "The
Language of Leadership," was
attended by TAMIU students
enrolled in various leadership and
leadership development classes
and University student groups.
Select students were invited
to the initiative led by TAMIU vice
president for Student Success, Dr.
Minita Ramírez ,and TAMIU A. R.
Sanchez, Jr. School of Business
professor Dr. Jacqueline Mayfield.
"We think it was a remarkable
opportunity for students to see
how strong communication skills
are an inherent part of strong
leadership. Nobody does this
better than Senator Zaffirini," Dr.
Zaffirini was also an invited
summer faculty lecturer for
students from around the nation
who attended the historic
Latino Leadership Initiative held
at TAMIU for the first time this
TAMIU Hosts Historic Meeting of
Harvard's Latino Leadership Initiative
This summer, Texas A&M International University was home to
a select group of 36 students from across the nation for the Harvard
Kennedy School's Latino Leadership Initiative (LLI).
Launched in 2010, the LLI is sponsored by the Center for Public
Leadership (CPL) at the Harvard Kennedy School. It is a weeklong
program that prepares rising college seniors for the opportunities and
challenges they will face in the coming decades. This was the first time
the LLI was held away from the Harvard campus.
Students traveled to TAMIU from eight participating Initiative
schools: Loyola Marymount University (Los Angeles); University of
California, Merced; TAMIU; the University of Houston; the University
of Massachusetts–Boston; The University of Texas–Pan American;
West Texas A&M University and Monterrey Institute of Technology and
Higher Education, Monterrey, Nuevo León, México.
All students were chosen through a competitive application
LLI classes focus on public narrative, community organizing,
negotiation, moral leadership, emotional intelligence and critical
thinking, networking, and public speaking. LLI participants also had
opportunities to build relationships with respected Latino mentors from
government, non-profit, and business sectors.
Among LLI organizers and guest lecturers were Kaleb Canales,
offensive coordinator, Dallas Mavericks; Marshall Ganz, Harvard senior
lecturer in Public Policy, Hauser Center for Nonprofit Organizations;
Cristina Diaz, Senator, México; Mark Menaldo, TAMIU assistant
professor, international and American politics; Al Silva, chief operating
officer and general manager, Labatt Food Service, Inc.; Judith Zaffirini,
State Senator, Texas and Andy Zelleke, senior lecturer, Harvard Business
School and LLI academic program head.
Top: Andy Zelleke, senior lecturer, Harvard Business School shares tips on negotiation;
Bottom left: Jim Jimenez, representing US Consul David Zimoff, and Mexico Consul Miguel
Angel Isidro host a dinner lecture focused on their career experiences. Students Eduardo Castillo,
Jackelyne Briseño and Miguel San Miguel were among TAMIU participants in the LLI Conference.
Cult i vat i ng l eadersh i p