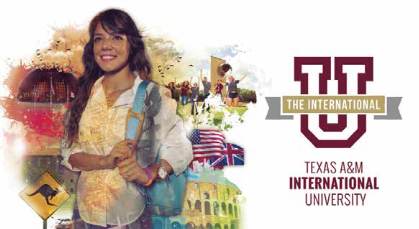 This fall, you may have heard one of the area's
loudest collective sighs of relief emanating from Texas
A&M International University.
That's because University students were able to
lock in the cost of their higher education with a Fixed
Tuition and Fee Plan authorized by The Texas A&M
University System Regents.
The Fixed Tuition and Fee Plan guarantees
tuition and fees for four years for most majors for a
total of 12 consecutive semesters.
Spring 2015 at TAMIU begins Jan. 20, 2015.
The long cherished dream of a Master's degree
in Communication is now a reality at Texas A&M
International University. The Texas Higher Education
Coordinating Board approved the program's launch
The innovative program combines practical
and applied knowledge with theory and practice,
alongside a special focus on communication practices
in both binational and international contexts.
Office of Global Initiatives
Securing Diverse Partnerships
TAMIU's international mission is further
strengthened by its Office of Global Initiatives (OGI),
part of the Binational Center.
This year, the OGI has secured eight international
memorandums with a diverse international community
including the Minister of Energy in Ecuador, Fundacíon
Mega, a private Mexican Foundation in Jalisco,
México; Coparmex, a national consortium of Mexican
commerce and industry affiliates, and various Mexican
universities in Nuevo León, Veracruz, Coahuila,
As part of its outreach, the Center has also been
playing an active role in international discussions
throughout the U.S. and México that are focused
on the shared role and impact on the binational
community of both the Eagle Ford Shale boom of
South Texas and Mexican energy reform.
The Binational Center's mission is to enhance
relationships between the United States and
other countries within the Western Hemisphere
by promoting civic and social organizations and
institutions through research, education, leadership,
To learn more about the Center and the Office
of Global Initiatives, contact assistant vice president
for Global Initiatives, María Eugenia Calderón Porter,
It's All About "The International U"
Texas A&M International University is really living up to its name…as The International U.
This year, the University launched a new branding campaign that strategically elevates and defines our
international identity, nature and mission. It includes a new logo and icon reflecting this.
The brand's unifying theme is a proud evocation of our mission, role and scope. It merges TAMIU's
traditional colors with a flourish of gold. The International U reinforces how TAMIU is perceived and regarded
and confidently proclaims
University's Office of Public