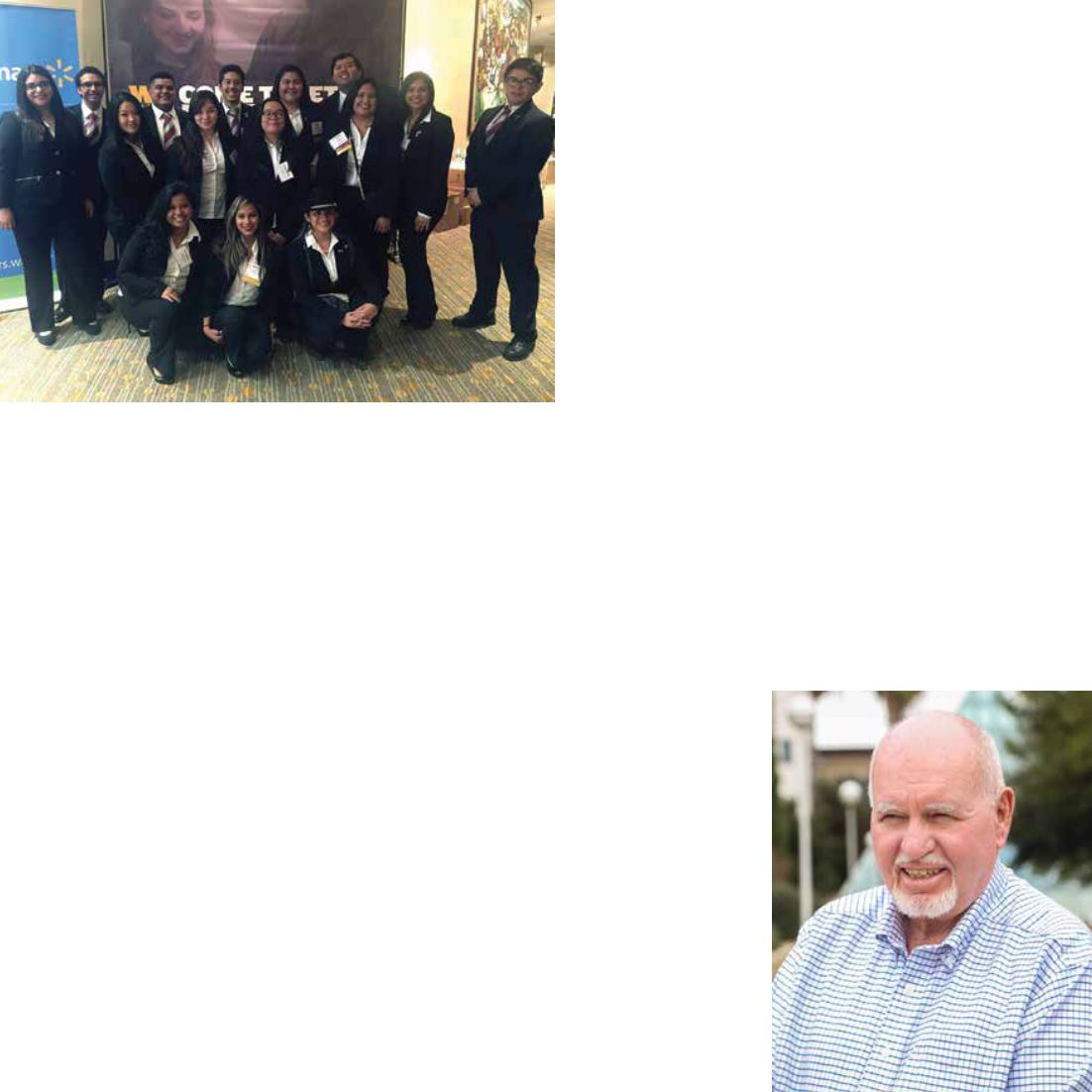 Thompson Gets Domínguez Award
TAMIU Regents Professor of History Dr. Jerry Thompson
was named winner of the Fray Francisco Atanasio Domínguez
Award by the Historical Society of New Mexico (HSNM) for
A Civil War History of the New Mexico Volunteers and
Militia
, (University of New Mexico Press).
In notifying Dr.Thompson of the Award, HSNM
noted, "Your readable, thoroughly documented book is of
considerable importance to the historiography of New Mexico
in the late 19th Century," and one reviewer observed, "nothing
comes close in detailing the Texas invasion of New Mexico. I
would not only recommend the book, I would suggest that the
reading of it is imperative."
Some 10 years in creation, the book with its 939 pages is a
hefty confirmation of his commitment to revealing little-known
elements of the Civil War in New MexicoTerritory.
"The Civil War in New Mexico began in 1861 with the
Confederate invasion and occupation of the Mesilla Valley.
At the same time, small villages and towns in New Mexico
Territory faced raids from Navajos and Apaches. In response,
the Department of New Mexico commander, Colonel Edward
Canby and Governor Henry Connelly, recruited what became
the First and Second New MexicoVolunteer Infantry. My book
seeks to tell their story for the first time, along with the history
of a third regiment of Mounted Infantry and several companies
in a fourth regiment," Thompson explained.
One of the country's leading Civil War historians, especially
Tejano Tiger:
José de los Santos
Benavides and the
History of the Texas-
México Border, 1823-
1891
Social media management, website creation and an
assistance list provided to area small businesses helped propel
the TAMIU student organization Enactus to become "Regional
Champions" at the Enactus Regional Competition in Dallas.
TAMIU was one of nine teams to receive the Regional
Champion Award;18 teams competed before a judging panel.
Enactus co-president David Canseco, a senior business
administration major, was also offered an internship
opportunity with chain retail warehouse club, Sam's Club at the
Enactus team members included Eustolia Morales, Idalia
Ramos, Damian Sentien, Adan Soliz,Vanessa García, Cynthia
Ontiveros, Daniela Reyna, David Canseco, Jesus Cavazos and
This year,TAMIU Enactus identified the need to empower
small businesses in the face of strong competition from large
corporations and companies appearing locally, Canseco said.
Local businesses empowered include Deadzone Paintball
and La Chocolateka, among others, he said.
Enactus is a community of student, academic and business
leaders committed to using the power of entrepreneurial
action to enable human progress. Enactus students apply
business concepts to develop community outreach projects,
transform lives and shape a better, more sustainable world.