United States/ Mexico Relations
Events - 2014
This was the first Eagle Ford Consortium Meeting in Laredo. At this event, the new Binational Committee of the Eagle Ford Shale Consortium was introduced. The mission of this new committee is to assist US and Mexico business, government, institutions, and universities in their endeavors to engage in bi-national commerce related to the oil and gas industry for the mutual benefit of each country and its citizens. Some of the presenters at the event were AMESPAC Director Antonio Juárez, CNH Commissioner Guillermo Dominguez, Mexico City Attorney Javier Zenteno of Zenteno-Lira Mora Abogados, and Mexico City Attorney Juan Carlos Solis of Solis Mendoza Abogados. Please see list below for their presentations, and click here to see the agenda for the day.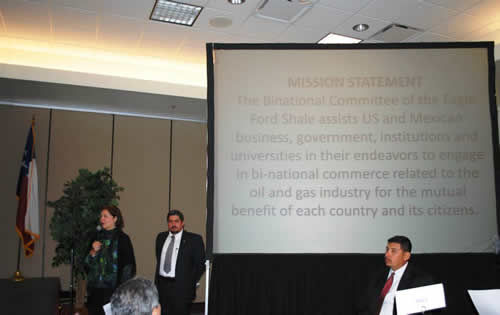 This was the first meeting of 2014 and the first in Saltillo, Coahuila, Mexico with our International nonprofit organization. The meeting took place at Instituto Mexicano Norteamericano de Relaciones Culturales. We had members from Monterrey, Saltillo, and Laredo in attendance.

In celebration of women's history/leadership month, the Binational Center hosts Dr. Denise Dresser and the ladies of the "Instituto Municpal de la Mujer de Nuevo Laredo" at a special luncheon to commemorate their wonderful work.

The Binational Center presents a Unique seminar series about the Four Immeasurables, also known as Brahmaviharas or the Four Dwellings of the Heart. Please join us as Professor Alan Murillo of Casa Tibet Mexico, explores each of these immeasurables: Loving-kindness, Compassion, Joy, and Equanimity. To see the presentation, please click here or for more details on the event click here.

This was our yearly event with Instituto Tecnologico de Nuevo Laredo, where we host about 50 of their Engineering students on topics of interest in their field of study and opportunities available to them as upcoming graduates. Some of the topics covered were "Eagle Ford: Texas Impact" presented by the Binational Eagle Ford Shale Community Porgram, "Eagle Ford: Mexico Impact" by Dr. Luis Fernando Camacho Ortegón from Universidad Autónoma de Coahuila, a presentation on working Visas for professionals by Vice Consul Virgil Carstens of the U.S. Consulate General in Nuevo Laredo, and "Opportunities in Mexico" by Ing. José Gerardo Treviño Guzmán from the City of Nuevo Laredo.

For additional information contact us at:
Texas A&M International University
BINATIONAL CENTER
U.S./Mexico Relations
5201 University Boulevard
Pellegrino Hall 301
Laredo, TX 78041
Tel. 956-326-2834
Fax 956-326-2836
Email: binationalcentermx@tamiu.edu
Office Hours:
Mon. - Fri., 8 am - 5 pm