United States/ Mexico Relations
Eagle Ford Shale


The Binational Center is a leader in promoting research and disseminating scientific studies on the local phenomenon of oil and gas extraction that is impacting the world, known as Eagle Ford Shale. We have participated in various events and conferences to share this information and provide opportunities for our region. Please see below for more details on our events, conferences, and presentations.
This was a presentation given by Binational Center Director, Maria Eugenia Calderón-Porter in Mexico City to an audience of over 400 attendees at an event sponsored/organized by AMESPAC, COPARMEX, and Club de Industriales.

Mexico's government will announce the extent of its Energy Reforms by November 15th. We invite you to attend a presentation of opportunities available to the USA Industry and an explanation of what the new laws mean to the international petroleum/gas economy. Please join us at this very important event. Click here to see the agenda for the day.
This was the first Eagle Ford Consortium Meeting in Laredo. At this event, the new Binational Committee of the Eagle Ford Shale Consortium was introduced. The mission of this new committee is to assist US and Mexico business, government, institutions, and universities in their endeavors to engage in bi-national commerce related to the oil and gas industry for the mutual benefit of each country and its citizens. Some of the presenters at the event were AMESPAC Director Antonio Juárez, CNH Commissioner Guillermo Dominguez, Mexico City Attorney Javier Zenteno of Zenteno-Lira Mora Abogados, and Mexico City Attorney Juan Carlos Solis of Solis Mendoza Abogados. Please see list below for their presentations, and click here to see the agenda for the day.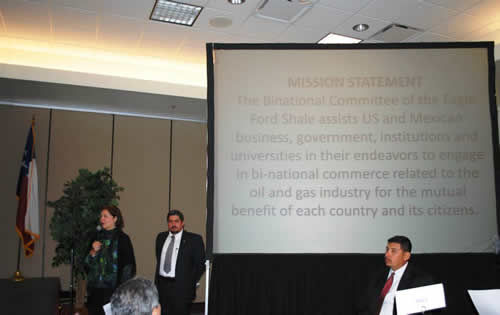 Presentations from panel: Shale Regions: The Mexican Shale in "Play!"- Moderator- Maria Eugenia Calderon-Porter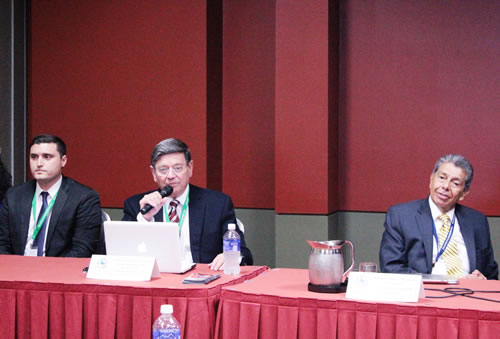 For additional information contact us at:
Texas A&M International University
BINATIONAL CENTER
U.S./Mexico Relations
5201 University Boulevard
Pellegrino Hall 301
Laredo, TX 78041
Tel. 956-326-2834
Fax 956-326-2836
Email: binationalcentermx@tamiu.edu
Office Hours:
Mon. - Fri., 8 am - 5 pm
Become our fan!