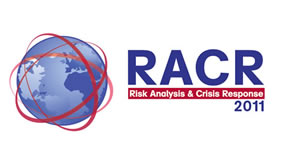 Conference Overview | Keynote Speakers | Call for Papers | Topics
Conference Agenda | Location | Accommodations
Registration Information | Exhibitors | Expo | Sponsors | Organization | FAQ | Contact Us
Conference Agenda
TIME

EVENT

LOCATION

18:00-19:00

Registration

La Posada Lobby

19:00-21:00

Reception

La Posada

Monday, May 23, 2011

TIME

EVENT

LOCATION

6:30-9:30

Breakfast

La Posada*

8:00-9:00

Registration

Student Center Rotunda (TAMIU)

9:00-9:15

Opening Ceremony

Student Center Ballroom (TAMIU)

9:30-11:00

Concurrent Sessions

TAMIU Campus

11:00-11:45

Coffee Break

TAMIU Campus

12:00-13:45

Lunch and Keynote Speaker Robert Hurst, CEO Critical Leadership

Student Center Ballroom

14:00-15:30

Concurrent Sessions

TAMIU Campus

15:35-15:45

Break-Computer Labs Open

TAMIU Campus

15:45-17:15

Concurrent Sessions

TAMIU Campus

17:30-19:30

Dinner and Keynote Speaker Dr. Jinren Ni, Peking University

TAMIU Campus

19:30

Board Buses to hotel

La Posada

Tuesday, May 24, 2011

TIME

EVENT

LOCATION

6:30-9:30

Breakfast

La Posada*

7:30-9:00

Board Buses to TAMIU

TAMIU

9:00-10:45

Concurrent Sessions

TAMIU Campus

10:45-11:30

Coffee Break

TAMIU Campus

12:00-14:00

Lunch and Keynote Speaker Dr. Chongfu Huang, President of the Risk Analysis in China

Student Center Ballroom (TAMIU)

14:00-15:45

Concurrent Sessions

TAMIU Campus

15:45-16:00

Break-Computer Labs Open

TAMIU Campus

16:00- 16:30

Travel to Expo

En Route

16:30- 21:00

RACR 2011 Expo

Laredo International Fire/ Law Enforcement Training Center

21:00- 22:00

Board Buses and Travel to Hotel

La Posada

Wednesday, May 25, 2011

TIME

EVENT

LOCATION

6:30-7:00

Breakfast

La Posada*

7:30-8:30

Board Buses to travel to TAMIU

TAMIU Campus

8:45-10:15

Concurrent Sessions

TAMIU Campus

10:15-10:30

Coffee Break

TAMIU Campus

10:30-12:00

Concurrent Sessions

TAMIU Campus

12:30-13:45
Lunch
Student Center Ballroom (TAMIU)
Attention:
*La Posada will provide breakfast and transportation to all events including shuttles to and from the airport for their guests. If you prefer to stay at another location you will be responsible for breakfast and transportation. For more information about topics in the concurrent sessions, please contact us.
Binational Center
5201 University Boulevard, Pellegrino Hall 301
Laredo, TX 78041
Tel. 956.326.3068 - Fax 956.326.2838
Email:binationalcenter@tamiu.edu
Office Hours: Mon - Fri, 8 am - 5 pm.