About Our Film Festival's Namesake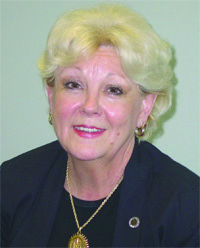 The TAMIU Annette Olsen-Fazi International Film Festival honors the memory of Dr. Annette M. Olsen-Fazi, beloved associate professor of French and English, who passed away Jan. 31, 2008. Colleagues and students alike found themselves buoyed by her boundless energy, enthusiasm and quick wit.
She joined TAMIU in 2005, and held her Ph.D. in Anglo-American Studies from the Université Paul Valéry, in Montpellier, France. She lead a study-travel program for TAMIU students to France and aggressively built interest in French offerings.
With a Humanities Texas grant, she created TAMIU's first French Film Festival, "La Vie En France." She was awarded a Fulbright Scholar grant in 2007-08 to lecture and research Tunisia's University of Sousse. When diagnosed with breast cancer, she characteristically was soon trying to find a way to help others.
She is survived by her daughters, Lisa Maldonado and Stephanie Fazi, both of France, and Warren Graffeo, adjunct faculty for the department of Language and Literature.
In addition to the Festival, a Memorial Scholarship has been created to support TAMIU student travel to French-speaking countries.
For more information, call 956.326.2175.