The D.D. Hachar Honors Program
Scholar Accomplishments
Cesar Cardenas
Mayor Raul G. Salinas along with the City of Laredo City Council presented Cesar Cardenas, Jr. with a certificate of recognition for his accomplishments at Bethesda Maryland, winning the Outstanding Award for his research presentation on "Awareness and Implementation of Clinical Research in Webb County." Cesar Cardenas, Jr. stands alongside his winning poster entitled, "Awareness and Implementation of Clinical Research in Webb County." Cárdenas received "Outstanding Presentation," the highest ranking awarded by NIH.
Marc Andres
After Marc Andres's first year as an undergraduate biology student, he was fortunate to become an undergraduate researcher through the UMEB (Undergraduate Mentoring in Environmental Biology) program under the guidance of Dr. Francis Gelwick of Texas A&M University. Their project, which spanned from June 2006 to May 2007, focused on studying the effects of small fish in mitigating algal blooms in urban wetlands such as Chacon Creek here in Laredo, TX. During the 8th Annual Ecological Integration Symposium, together with his research partner, Monica Treviño, they were awarded the Best Undergraduate Research Poster for this display entitled "Influence of Small Fish in Urban Wetlands, Laredo, TX." In continuation of his research training, he was accepted and attended the highly competitive Summer Research Training Program at the University of California San Francisco as an Amgen Scholar. The program, intended to prepare students for biomedical research careers, accepted fifty-five students from an applicant pool of eight hundred. While at UCSF, he worked at the Diabetes Center under the guidance of Mark Anderson, MD/PhD and Jason Devoss, Ph.D. to investigate the mechanisms of autoimmune dacryoadenitis, a disease found in some people suffering from Type I Diabetes in genetically predisposed individuals. This Fall 2007, he has been accepted to Texas A&M Health Science Center's College of Medicine through a guaranteed acceptance program, and expects to start in the MD/PhD program in Fall 2008. He will be graduating with a Bachelors of Science in Biology in May 2008, one year shorter than his schedule graduation in 2009.
Maria Gomez
The Gates Millennium Scholarship is awarded to 1,000 high school graduating seniors from around the country every year. It is awarded on the basis of merit, community service, extra-curricular activities, and overall application. There are three parts to the application: the one where a student fills out which asks about the above mentioned criteria and also included about eight essay questions, a Nominator form which must be filled out by a teacher, principal, guidance counselor or another professional educator who is familiar with a student's academic background, and Recommender form which needs to be filled out by an adult whom has worked extensively and knows the student's nonacademic capabilities. All three forms must be submitted in order for the application to be considered.
Manuel Montes
Because the scholarship runs nationwide, the student is not only competing with people from their school, city of even state, but they are competing with people from all over the United States. One of the requirements, however, is that they need to be part of a minority; Gates has four different subsections which are for Hispanic Americans, Asian Pacific Islanders, and African Americans, and American Indian. This amazing scholarship provides as much funding required for their undergraduate school and in most cases covers graduate school as well. Once you are a Gates Millennium Scholar (GMS Scholar), the student has the responsibility to maintain a certain GPA, educate people on the Gates Scholarship, and continue volunteering around the community. It is a lengthy application, but it is more than worth it. Students feel incredibly honored to have received such a wonderful and prestigious scholarship.
Sandra Contreras
2006 Graduate of St. Augustine
Since I started my college career, I've always toyed with the idea of studying abroad. The idea of living four more years in Laredo didn't exactly thrill me. I wanted something different, exciting, and adventurous, not only to get out of Laredo but to get something more meaningful out of my college experience.
At first, I had a difficult time deciding where to go. There were several variables I had to consider, such as which country to visit, if I was going to learn a different language, the cost, and more importantly how the place I visited would benefit me in the long run. I researched different programs for weeks and nothing ever seemed to interest me. The Scholar Ship is a sixteen-week long academic study abroad program onboard a passenger ship. The ship has been transformed into a campus and takes students on semester-long voyages all over the world creating a diverse learning community. Immediately I saw that his was the perfect experience for me. On September 5th, 2007 I boarded the MV Oceanic II in Piraeus, Greece for the inaugural voyage of The Scholar Ship, which took me to Portugal, Ecuador, Tahiti, New Zealand, Australia, and China. Part of the uniqueness of this program and of my learning experience was the academic program onboard and off the ship. The ship was a campus in itself, going to classes, having a schedule, joining student organizations, having a student government, playing in intramural sports and participating in different events and activities. Studying onboard The Scholar Ship has been the greatest experience of my life. I've learned to appreciate and embrace diversity and that although everyone is different; we are somehow all the same. I've learned the positive and negative aspects of globalization and how it affects everyone in different ways. I've learned so much more outside the classroom and without a doubt this has been the experience of a lifetime.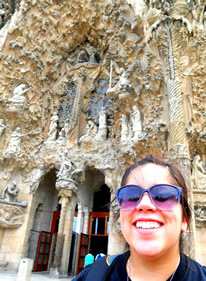 Monica Stahl
"I went to World Youth Day in August 2011 with the NewMan club from TAMIU.
We traveled throughout France, Spain, and Portugal where we ended in Madrid to see the pope.
Along our journey we learned of different cultures and religions. The picture attached is a picture of myself at La Iglesia de la Sagrada Familia in Barcelona, Spain. That church hosted several masses from religions of all kinds and continues to be built today."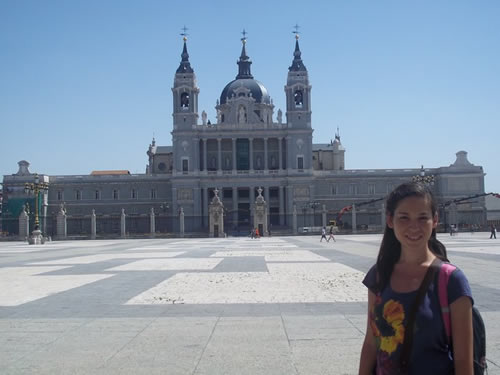 Karla C. Garza
As a scholar of the D.D. Hachar Honors Program I have learned that college is more than just a time to grow academically, and rather, it is a time to grow personally and explore beyond the academic classroom. The constant motivation coming from the Honors Program helped me reach a point in my life where I wanted to explore something new out of my daily lifestyle. I felt the importance of looking beyond the walls of my everyday life and decided to experience something new that would help me change into a world rounded individual.
On May 25, 2011 I boarded a flight that took me into a six week study abroad adventure to Madrid, Spain. Although at first it was a thoughtful decision, today I can only describe this opportunity as by far the best experience yet in my life. The opportunity that I had while abroad to travel not only around Spain but also to France and Italy gave me the opportunity to immerse myself into different cultures which helped me deepen my understanding of cultural diversity and  integrity.
Going abroad was an enriching experience that helped me discover my capabilities to achieve far more that just my academic success. I am glad I gave myself the chance to go abroad and I am grateful for the endless opportunities that the D.D. Hachar Honors Program has given me throughout my college career.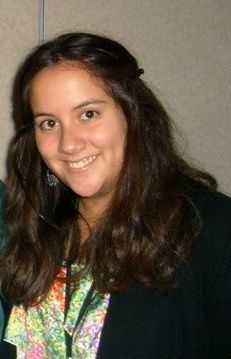 Nidia Yáñez
HACU National Internship Program- Summer 2011
With combined interests in journalism and political science, this past summer I interned at the U.S. Census Bureau, as part of the HACU National Internship Program. I was fortunate to participate in the Current Population Survey, the Census's longest running survey, which collects valuable information regarding employment and unemployment. As a liaison, I encouraged citizens' participation as well as conducted interviews in Spanish. Throughout the week of the survey it was important to meet the intended result goals. However, the most valuable aspect was learning how the compilations of these results were presented to media outlets in the form of the unemployment rate. These results had the power to shape the news agenda and the continual discourse among policy makers and constituents, which motivated me to further examine the relationship between politics and communication.