Masters Program in Counseling Psychology
Menu
TAMIU Community Stress Center
"Helping the Laredo Community Help Itself"
EST. 2004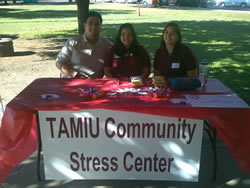 OUR MISSION:
The mission of the Texas A&M International University Community Stress Center is to engage each individual in a unique plan that not only focuses on the immediate and presenting needs but also recognizes the importance of community integration and personal development. The TAMIU Community Stress Center values mutual cooperation and participation. It is the goal of the TAMIU Community Stress Center to help the Laredo community help itself.
Services Offered:
Individual Counseling
Couples Counseling
Family Counseling
Marriage Counseling
Assessment
Referral
Educational Groups
Career Counseling Services
Testing (as needed)
Issues Adressed:
Family Conflicts
Career Decisions
Indecisiveness
Lack of Direction
Feelings of Sadness
Anger or Fear
Relocation
Bicultural Conflict
Feeling Overwhelmed
Stress
TAMIU Community Stress Center counseling services are provided by graduate students in the University's MACP program who are meeting their practicuum and internship requirements. All graduate students are professionally supervised by a licensed psychologist or a licensed professional counselor registered in the State of Texas.
Our Commitment to the Community
The goal of the TAMIU Community Stress Center is to provide a service that meets the requirements and expectations of Texas A&M International University and the Laredo Community. Individuals will be treated with respect and accommodations will be made to meet their immediate needs. The TAMIU Community Stress Center is dedicated and committed to providing an exceptional service to its Laredo community.
Our Services are provided in to 2 different locations:
915 Zaragoza St. (Casa Ortiz), Laredo, TX, 78043
5201 University Blvd., LaredoTX, 78041(Canseco Hall 205A)
To obtain an appoinment please call and leave your informtion at
(956) 326-3120
Services are available in English and Spanish.
Services are FREE of charge and no insurance is required. Services are provided to our community members as young as 13 years of age.