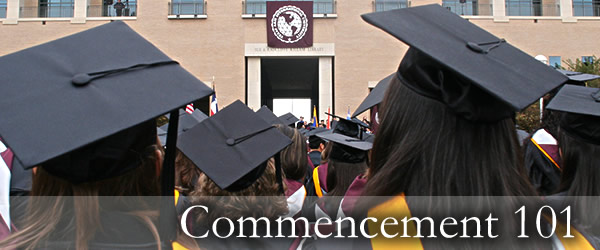 Fall 2010 Commencement Speech
Speaker for Ceremony III - College of Arts & Sciences
Shirley S. González
Guadalupe and Lilia Martínez Foundation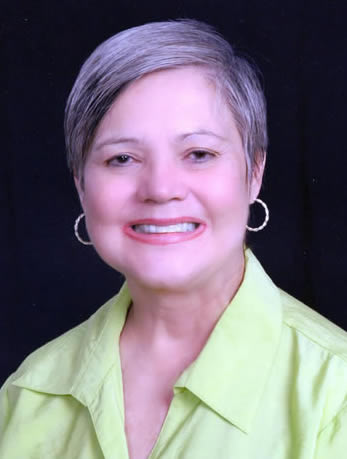 Following is the text of Ms. González's Commencement Speech:
Good evening Regent Jim Schwertner, Chancellor Michael McKinney, President Ray Keck and Provost Pablo Arenaz.  And good evening, graduates.  My name is Shirley.
You-- new graduates-- allow me to tell you a little bit about myself so that you will know who is talking to you.  Better still let me tell you who I am not.  I am not a mathematician.  There is a reason for that.  When I studied the Euclidean formula and my math teacher tried to convince me that pi are square, I knew that if she believed that pi are square,  she had some sort of warped sense of reality.  EVERYONE KNOWS THAT PI AND TORTILLAS ARE ROUND—CORNBREAD ARE SQUARE.  Later, I started hearing about this fellow Albert Einstein and what a remarkable mind he had—he had the finest mind of our time.  He split the atom and created a bomb and all of that, and he did that using math.  I thought, noooooo way!!!!  If it was the same math that I had been exposed to, there was nothing useful that could come of that.  I mean, he came up with something else just as clueless.  Something like E=MC².  I decided I might become interested if Mr. Einstein had done anything else besides using all kinds of faulty math to create incendiary devices.  That's when I discovered Albert Einstein, the man, the humanitarian.  What a paradox I discovered--someone who could bring about such a force of destruction and also advocate so boldly for peace was truly an enigma.  Even though I eventually started knowing this person primarily through his quotes, he was someone that made me curious.  This was someone that struck a chord within me.   He wrote of the frailty and of the ideal of the human condition.  I have found his genius to be as disarming as a child's; his straight-forwardness beguiling in its simplicity; his humor as piquant as a jalapeño; his insight as piercing as a laser.
One of my favorite quotes of the many—and particularly appropriate for this evening is: THE MOST BEAUTIFUL THING WE CAN EXPERIENCE IS THE MYSTERIOUS.  IT IS THE SOURCE OF ALL TRUE ART AND ALL SCIENCE.  HE TO WHOM THIS EMOTION IS A STRANGER, WHO CAN NO LONGER PAUSE TO WONDER AND STAND RAPT IN AWE, IS AS GOOD AS DEAD, HIS EYES ARE CLOSED.
See just how important your disciplines are. Now that you have earned your degrees, your job is to go out in the world and share what you have learned with others and never forget that your education is merely a building block - a step so to speak, to learn more. Your sense of awe should be as breathtaking as a child's. Your insight right now should be, aside from relief, how much more there is out there for you to still grasp. Another one of his quotes is a little longer but nevertheless a truism: "A HUMAN BEING IS A PART OF A WHOLE, CALLED BY US 'UNIVERSE,'  A PART LIMITED IN TIME AND SPACE.  HE EXPERIENCES HIMSELF, HIS THOUGHTS AND FEELINGS AS SOMETHING SEPARATED FROM THE REST…A KIND OF OPTICAL DELUSION OF HIS CONSCIOUSNESS.  THIS DELUSION IS A KIND OF PRISON FOR US, RESTRICTING US TO OUR PERSONAL DESIRES AND TO AFFECTION FOR A FEW PERSONS NEAREST TO US.  OUR TASK MUST BE TO FREE OURSELVES FROM THIS PRISON BY WIDENING OUR CIRCLE OF COMPASSION TO EMBRACE ALL LIVING CREATURES AND THE WHOLE OF NATURE AND ITS BEAUTY.''
Allow me to repeat this for this is, indeed, the crux of being human.
My reaction was that I had to come to a hard realization that humankind—yep! That's us—cannot go through this existence, this plane of consciousness, thinking that the block we live on, that this town we live in, that those in our socio-economic circle are the only ones who must be served.  Remember, all of us feel pain, all of us bleed, all of us feel cold, all of us feel hunger and all of us feel disenfranchised and lonely at one time or another.  If one of us has a need, it is incumbent that all of us rush to help meet that need.  We fill these needs with our time, our energy, our resources, whatever they may be.  If we can widen our circle of compassion, we can liberate ourselves from these prisons of personal desires.
Another one of Einstein's thoughts is very similar to the previous quote: A PERSON STARTS TO LIVE WHEN HE CAN LIVE OUTSIDE HIMSELF.
This is particularly near and dear to my heart.  It is short and has little words. But can we? That is, live outside ourselves?  Can we feel pity?  Can we walk in another's shoes?  Can we become that person that is needy?  I mean really, really become someone else.  Do we have the courage give up our home for another?  Can we be that person in pain?  Can we cry big, fat, hot tears for another?  Can we sacrifice until it hurts?  Can we extend ourselves beyond, beyond, beyond anything we could possibly imagine?   Just asking!!!!!!
This is getting way too serious—especially on such a joyous occasion.  Let's lighten up here a little bit.
Did you know that this wonderful genius thought: THE HARDEST THING IN THE WORLD TO UNDERSTAND IS THE INCOME TAX.  No seriously!!! He really did.  So he gave the rest of us permission to say, "I'm an Einstein at doing my taxes."
One second-to-the-last important Einstein-ism is: DO NOT WORRY ABOUT YOUR DIFFICULTIES IN MATHEMATICS.  I CAN ASSURE YOU MINE ARE STILL GREATER.
See Mom, I am smarter than Einstein in math—and you were so worried.
I must tell you that I was supposed to imbue you with the spirit of philanthropy tonight.  I hope I did.  You see, philanthropy is more than just writing checks.  It is about sympathy, empathy, intuition, humility, respect, and the best of humanity.  Also, throw in a pinch of humor.  Even when you don't feel like it, reach into yourself and pull out the dreams and the ideal.  My friend, Al, said GRAVITATION IS NOT RESPONSIBLE FOR PEOPLE FALLING IN LOVE—it is not science or math, it is our own free will that makes us love what we do.  We choose to love.  It is the people.
Just one last thought here, my aunt and uncle, Lilia and Guadalupe Martinez, who started the Foundation, were probably living these truths without even knowing it.  They were hard workers and gave of their time, and talents.  They gave joyfully and gladly—and with that ever-important humor.  As they aged, they shared the resources that God had shared with them.  What I can never forget is that they were ever the joyful givers and perfect philanthropists.
Good night. Good luck.  Have wonderful lives, wonderful careers, and however you are able BE PHILANTHROPISTS.