ABOUT TEXAS A&M INTERNATIONAL UNIVERSITY
The information about this page pertains to foreign exchange students who study at Texas A&M International University (TAMIU) through means of an exchange agreement between their home institution and TAMIU. In this page we address some of the questions you may have about living and studying at TAMIU. Should you still have questions or need assistance, please do not hesitate to contact us!
Arrival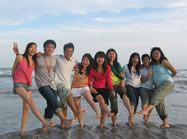 Arrival to Laredo can be arranged via air or road. If you are flying into either Dallas or Houston you can reserve a connecting flight from Dallas with American Eagle, and from Houston with Continental Airlines to Laredo. When arriving at Laredo International Airport, you can either get a taxi (approximately $8 for the fare) or notify OIE, so we can arrange for your pick up at the airport.
If you wish to save some money and see the Texas landscape, you may want to reserve yourself a ticket on the Greyhound bus. The Greyhound bus arrives at the Laredo Central Bus Station, and it is again recommended that you notify OIE prior to your scheduled arrival, or you can take bus route 16, which will take you directly to the University.
TAMIU One-Card
The TAMIU OneCard is the official ID for students, faculty, and staff of Texas A&M International University. The OneCard has a debit account called Dusty Dollars that can be used to pay for goods and services on campus.
Housing
Texas A&M International University has two accommodation complexes for students who want to live on campus: T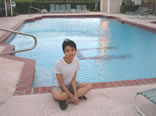 he University Village and the Residential Learning Community. The University Village has a four and two bedroom (furnished) option for students. A reservation/damage deposit of $100 (refundable) is required. The Residential Learning Community (RLC) has single furnished bedrooms with shared bath (2 people) and shared kitchen facilities. A reservation/ damage deposit (refundable) of $150 is required. Students staying at the RLC must participate in a meal plan, which is offered by our on-campus dining services (19 meals a week).
Weather
The weather is Laredo is usually between nice and hot. Summers average 38C to 42C degrees, and winters average 8C-13C degrees. It is important that you bring appropriate clothing for this kind of weather. Consider bringing a fall jacket, a few sweaters, and some jeans to handle the winter days, and light summer clothing for early spring until late fall. Don't forget your swimming gear, since the University Village has a wonderful pool and sand volleyball court! Since you will likely be giving some presentations in the classes, it is strongly advised that you bring along a suit/business outfit.
Food Services
TAMIU offers food services through Aramark. Open during week days from 8:00 a.m. till 7 p.m., it provides breakfast, lunch, and supper to students, staff, and faculty. You can choose your favorite dishes from the soup/salad bar, Subway, Grille Works, or Benne Pizza, or, if you cannot make up your mind, a selection of buffet items at Dusty's Diner. Off-campus there are several restaurants (fancy to fast-food) to fill your empty stomach. Definitely try out the Mexican cuisine, which is excellent!
Public Transportation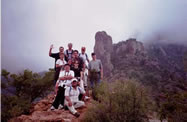 Local bus transportation is available in the Laredo, but does not run as often as you will find in bigger cities. During week days the Metro bus stops at TAMIU every hour.
There is limited Metro bus service on Saturdays and on Sundays. For out-of-town trips, students can make use of the Greyhound bus system, or (when going to México) any of the Mexican bus lines.
Useful Links
The Laredo Chamber of Commerce