Transfer Students
A student entering Texas A&M International University at the sophomore (30 to 59 hours), junior (60 to 89 hours), or senior (90 or more hours) level from an accredited college or university is considered a transfer student. Texas A&M International University allows credit for work completed in other institutions which are approved by the appropriate regional accrediting agency.
To be admitted as a transfer student, an applicant must submit the following information to the Office of Admissions in Killam Library, Room 155: (Additional requirements for the School of Nursing and for Teacher Education Programs).
Application for Undergraduate Admission.
Application
Return the completed Application for Undergraduate Admission (PDF) (No Application Fee) to the Office of Recruitment and School Relations. Students may also apply through www.applytexas.org.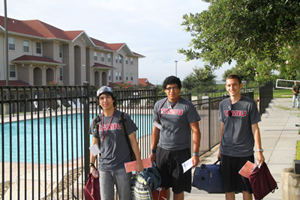 Official college/university transcript(s) sent directly from each institution attended. A minimum overall grade point average of 2.00 is required. Even though a grade below "C" will be calculated into the grade point average, it will not be used to satisfy degree requirements.
For Students outside Texas/US
The Test of English as a Foreign Language (TOEFL) is required of all students having academic studies from a country where English is not the native language. A minimum TOEFL score of 213 (Computer-based) or 550 (Paper-based) is required. This score must be sent directly from the Educational Testing Service (ETS) and dated within two (2) years of enrollment.
NOTE: International Students must also complete the requirements listed under International Student Admission.
IMPORTANT: As of September 1, 2003, the State of Texas required all students to meet the Texas Success Initiative (TSI) mandates. TAMIU will use the state approved Texas Higher Education Assessment (THEA) as a form of assessment and honor any state approved alternative assessment instruments. The University will use the THEA exemptions as stipulated by the State of Texas under the TSI plan. The THEA score is not a determinant component for admissions into A&M International.
For information, contact the Programs for Academic Support and Enrichment at (956) 326-2134.
Transfer Curricula and Resolution of Transfer Disputes for Lower-Level Courses:
The transfer curricula shall be as prescribed by the current issue of the Texas Higher Education Coordinating Board's guide to transfer curricula and transfer of credit.
The following procedures shall be followed by public institutions of higher education in the resolution of transfer disputes involving lower-level courses:
If an institution of higher education does not accept course credit earned by a student at another institution of higher education, that institution shall give written notice to the student and the other institution that the transfer of the course credit is denied.
The two institutions and the student shall attempt to resolve the transfer of the course credit in accordance with the Higher Education Coordinating Board rules and/or guidelines.
---