TAMIU Debit Card
The TAMIU Debit Card is a unique benefit to you. As an active member of Texas A&M International University community the TAMIU Debit Card is your official refund disbursement card. It can be used for Financial Aid Services, Business Services and provides the choice to access the benefits of the One Account.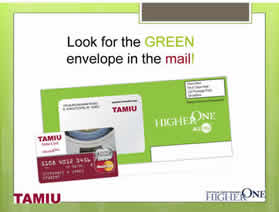 Be on the look out for your TAMIU Debit Card. The Debit Card is mailed to the address on file with the University once you have enrolled for class.
You can check the status of your card at www.TAMIUDebitCard.com. Click "Where's My Card?" in the "Get Started" box. Once it arrives, you'll want to activate your card & refund preference within 2 business days.
(TIP: Make sure and always have the most up to date addresses and phone numbers with the University. You may login to UCONNECT at uconnect.tamiu.edu to update this information.)
Go to the "My Business" tab.
Click any of the links under "Registration Tools" for example "Registration Status".
Go to the "Personal Information" tab.
Click on the "Update Addresses and Phones" link.
Or visit the Registrar's Office located in the ZSC room 121.

Now comes the exciting part, activating your TAMIU Debit Card! Visit www.TAMIUDebitCard.com and click the "Get Started" green box enter your 16 digit card number and continue with the process to choose your refund preference. You may also view a demo on how to activate the card just click on the link "Watch a demo".

Next you will need to choose a Refund Preference to receive your reimbursement. The two options are same business day deposit to a Higher One checking account or Deposit to another bank account (monies will be deposit in two to three business days)..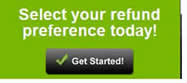 A Same business day deposit to a Higher One checking account offers:
Free checking account with no-minimum balance required.
Direct Deposit of refunds or payroll.
Pay Anywhere with Debit MasterCard® Spending Power.
24-Hour Online Banking.
Get Cash On-Campus at any of the two Higher One ATM locations, University Village Dorms Main Lobby and ZSC 1st floor (under the staircase). Off-Campus at (LCC Downtown Campus Kazen Center or LCC South Campus Billy Hall Center).
Deposit to another bank account:
Sends your funds to your own savings or checking account with another US bank.
Funds are transferred between 2 to 3 business days after the refund disbursement is released and a printed and signed ACH Transfer form is received by Higher One Bank.
Requirements: name of your bank, account number, and routing number.
Please feel free to view this informational video Higher One Orientation Presentation which explains how the debit card would best work for you.
For any additional information on the TAMIU Debit Card please visit us at Campus Card Services. We are located in the ZSC room 131.
Our office hours are:
Monday and Tuesday from 8:00am to 5:00pm
Wednesday and Thursday from 8:00am to 7:00pm
Friday from 8:00am to 3:00pm
Our Summer hours are:
Monday thru Thursday from 8:00am to 6:00pm
Friday 8:00am to 12:00pm
You may also contact us at 956-326-2877 or via email at onecard@tamiu.edu or follow us on
.
You may contact Higherone at www.higherone.com or by calling 1-866-663-4949.