Faculty and Administrative Staff Assembly
State of the University Address
August 21, 2009
For more years than I can say, the opening faculty and administrative meetings at our University  have begun with a report from the President, an address which came to be called "The State of the University." How are we doing?  Where are we headed?  As we begin to celebrate this fall the 40th anniversary of our founding, deep questions are especially in order.
First, and most important, I am reminded again this morning of the great blessing our profession offers us. We contemplate the 2009-2010 session in full possession of that most glorious of all gifts: the chance to begin anew.  Is there any phrase in any language more wonderful than "You can begin again"?  We who live and work in education hear that transforming promise every year of our professional lives.  Perhaps because our University life carries so many markers of time,  I find myself again and again, pondering what it means to begin, to continue pushing, and finally to end.
Edward Said, early in his career, published a marvelous book about the question of beginnings.  The first and central assertion of this study has for some time organized my musings on what it is to begin. Said distinguishes between transitive and intransitive beginnings. The first, a transitive beginning, leads to an "anticipated end;" the second, or intransitive beginning, may include no object but its own "constant clarification and contemplation." (Are there not transitive and intransitive people? Transitive and intransitive books, poems, music?) Which sort of beginning is ours today? Are we this morning headed toward an anticipated end, or is this an intransitive moment to take stock and reflect?  A transitive beginning prompts action, an intransitive one, contemplation.  A transitive beginning moves us away from ourselves and forward, an intransitive one turns us back upon ourselves.
Said's discussion of beginnings predictably expands to include the antipode, endings.  Like our notions of light and dark, we engage beginnings precisely because we know what it means to end—a day, a year, a life.  And to be sure, in our profession, endings are no less clear nor plentiful than beginnings.  Even as we sit together to begin this morning, our end is fixed, printed in the calendar, organized, choreographed, waiting for December and May moments. If the beginning is lighted by intention and hope, the ending is defined by number and outcome. How can we, at the beginning, set in motion what will become a fulfilling end?  In a book published after his death, On Late Style, Said takes up the question of endings, concluding that they are, for the artist, a disaster.  Since I think we would agree that teaching is an art, how might we teachers avoid the descent into chaos and disorder Said notes in the work of many great artists?
Hector's monitory observation, in Shakespeare's Troilus and Cressida, if applied to teaching, suggests to me that our profession carries its own delivery from disastrous endings. In Act II, Scene ii, Troilus asks: "What is aught but as 'tis valued?"  Hector's reply shatters Troilus's suggestion that value is conveyed by opinion or by trappings and wrappings, empty of intrinsic meaning.
                                                                                   "Tis mad idolatry
                                         To make the service greater than the god.
Restated simply, the end must be greater than the means. Effort, even if selflessly offered, cannot imbue the end with meaning. Struggle on behalf of a supposedly visionary end does not make that end worthy of what we may offer it.  History's darkest stories and most frightening lessons invariably set before us a man or woman or civilization which has given itself to serve a wicked or infamous end.
But we don't need a dramatic parable from history, like Germany's embrace of National Socialism or America's defense of racism or Robert E. Lee's tragic preference for his state over his nation, to confront Hector's warning. Mad idolatry, on every trail, has always set a snare for humankind.   One's work could demand more effort than the end either requires or deserves. This is not our fate in the University. We who teach and we who support teaching truly serve the most universally inspiring of all ends, in Hector's word, of all gods.  We serve the dream for a better future. Each day we assist students of all ages lay in place a better, richer lot, for themselves and for their families.  The service is unforgivingly difficult and complex, but the god, the end—a luminous future—is far greater and far more deserving than our best efforts.
First, then, where are we? Among the notable events of the year just past came an opportunity that I had not imagined even one year before: We repopulated and at the same time restructured the University's administration. The retirement both of Mr. Jose García, after 29 years as CFO of this institution, and the appointment of Provost Dr. Dan R. Jones as President of Texas A&M-Commerce left vacant two top posts.  Then the departure of the Dean of Arts and Sciences and the Associate Vice President for Student Services left open two additional positions.  Then Dr. Jacky So, the Dean of the A.R. Sánchez School of Business announced his decision to return to teaching and the endowed chair he holds created by BBVA-Compass Bank. At the same time, our search continued for the Dean of College of Nursing and Health Sciences. And the Chair of Language and Literature asked for a year off without pay, stipulating that if he were to return, it would be to a teaching, not administrative, post.
So today we have new leadership at TAMIU.   First, our Provost, Dr. Pablo Arenaz; our Vice President for Administration and Finance and CFO, Mr. Juan Castillo; our Dean of Arts and Sciences, Dr. Tom Mitchell; our Dean of the A.R. Sánchez, Jr. School of Business, Dr. Steve Sears; our Dean of the College of Nursing and Health Sciences, Dr. Regina Aune and the Chair of the Department of Language and Literature, Dr. Manuel Broncano. The Texas Center, long a centerpiece of our outreach to the region, welcomes a new director, Mr. Herbert Molina, who finished his MBA with us in the early 80s, and now returns to find this University magnificently expanded.  Finally, after several years of planning and thinking, our PROF Center, began by Ms. Lisa Flores with the same excellence she always brings to her work, will on November 2, welcome its first permanent director, Dr. Rosemary Plank.  Each of these appointments required the sustained efforts of many search committees, and all of us are grateful to all of you who served on those committees.
In part because of this turnover in top-level administrators, we were able to eliminate four administrative positions: the Associate VP for Student Affairs, the Associate VP for Effectiveness and Planning, the Director of Student Health Services, and the Director of Student Counseling Services.  These positions have disappeared and responsibilities and duties absorbed within existing positions.
 We have become accustomed to dramatic change and newness. Cranes are still in place, the workmen still building. Two projects will bring transforming opportunities to the campus. One will mark the beginning of our 40th year anniversary; the second will bring that celebration to a dramatic conclusion.  The first project, to finish the interior of the theater in the fine arts building, is just now, as we speak, complete.  For the first time ever, Laredo will boast a fully operational, professional theater dedicated exclusively to dance and to drama. On October 14, 2009, we mark the gala opening, with a performance of Man of la Mancha.  Local patrons have formed the Laredo Theater Guild to expand both the resources and talent available for our productions. The second project, the Student Success building, is scheduled for completion in May, 2010. This magnificent new building, set at the southern terminus of our central walkway, allows us to restructure and reorder our offices of enrollment, academic support, advising, and financial aid services. In at least one happy consequence of the unhappy recession, we will be able to do more in and around this building than we had originally imagined possible.
Where will we turn next for capital improvements? The Killam Library is badly in need of expansion and renovation. Our student body has tripled since we moved into this space in August, 1995, and the Library suffers a serious and chronic space deficiency.  The task before us is to free up for Library use other parts of that beautiful building.  As a first step, we will in a few weeks begin a project to enclose the central sally port with glass, creating one entrance-exit for the entire building.  This will allow the Library to expand into any available space in the building without security issues blocking our way.  The project will create a gallery to house the work of Helen Richter Watson, local ceramicist and famed artist, whose family is underwriting the cost of reconditioning the center of our building.   Approximately 85,000 additional square feet are available under this roof, space now housing administrative offices, space that will need some reworking as it is incorporated into the Library.  We did this year, as a part of our contract with Aramark, open a fine Starbucks coffee shop on the first floor. In the 2011 legislative session, we will ask for a Tuition Revenue Board (TRB) of $12,000,000 to further reconfigure the building for Library use.
Like buildings, we have become accustomed to adding a dizzying array of new programs each year.  While the number of new offerings has slowed, our additions now are unusually significant, creative, forward-looking.  At the May meeting of the Board of Regents, we received approval for the Binational Center for Leadership, Research, Education, and Public Service, housed in our graduate program in public administration.  The creation of this Center makes reality of the longest recurring programmatic dream at our institution: to form an academic and civic coalition uniting Laredo and Nuevo Laredo. Because Nuevo Laredo mayor Ramón Garza Barrios is charismatic, visionary, and energetic, we are on the brink of entering into a series of partnerships with the Universidad Autónoma de Tamaulipas (UAT), the City of Nuevo Laredo, and the city of Laredo.  I hope in the near future we will be announcing the creation of a Binational degree with the UAT Dr. Arenaz and the deans are at present working on this possibility. Both the work with the City of Nuevo Laredo and the UAT is being directed and coordinated by Dr. Jaime Ortiz, all a part of our International Programs, this time just across town not on the other side of the globe!
Our First Year Experience Program, now in its second year, promises to remake how we teach.  With retention jumping from 58% to 72 % in the second year, we can be confident that the strategies and tactics are sound ones.  Part of this effort includes a new look at how we might better unite technology and pedagogy, and how we might pursue new methodologies for better teaching a new generation of learners. Deans and chairs have insisted upon faculty following a common syllabus in freshman-level, skill-building courses—not an innovation in the profession, to be sure.  Class sizes have risen dramatically, but so has both technological support and an enhanced presence of teaching assistants. (It is worth noting that a large lecture course for us, one of 100 students, is still a relatively small class for a Texas public university.)  Our goal is  a clear one: to balance the budget, to offer the best salaries for faculty, to protect small, single-section upper class and graduate courses.  During a recent discussion of these matters, Dr. Arenaz told me that this year he plans to put in place a sliding scale which will make class size a factor in determining teaching loads.
This year as part of the freshman year experience, we implemented a common read for all freshman, faculty, staff, and interested upperclassmen, following the lead of West Texas A&M University.  In September, the author of "All But My Life," Gerda Weissmann Klein, came to spend a day on campus, to meet with and speak to our freshmen.  Her presentation and the meetings which followed were without a doubt the most stirring, moving, and pedagogically thrilling moments I have spent since becoming President of this institution.  The energy and excitement caused by a book, the story of how one young woman survived the Holocaust, far exceeded what we had hoped might be possible.  In May, 15 students and four faculty sponsors traveled to Poland to visit Auschwitz, to see the places Mrs. Klein describes in her book, documenting their travel on our website.  Again, that experience far exceeded anything we could have imagined following the reading of one book.  
This fall we shift to Africa, to A Long Way Gone, by Ishmael Beah, boy-soldier during the Sierra Leone civil wars of the 1990s.  Mr. Beah will be here with us on October 9, an event that promises to be as moving and profound as our day with Mrs. Kline.  I am confident that encounter will be equally powerful and transforming for the new, entering freshman.  Mr. Beah's story is elegantly written and as compelling as anything I have read in recent memory.  And in the Spring of 2010 we will travel with students to a site relevant to A Long Way Gone.  At this point Ghana looks to be a good destination for the visit.
Because an accounting of our legislative outcomes is directly related to the freshman year program, I will at this point shift to the 2009 session and how we emerged.  As you may know, our Senator Judith Zaffirini was this year made Chair of the newly created Committee for Higher Education in the Texas Senate. Though it finally failed, a bill to freeze or cap tuition took up much of that committee's time.  The issue is not dead, and we should expect continued discussion of tuition.  For many Texans and many legislators, the cost of higher education has risen beyond reasonable bounds. Our own numbers are revealing: since FY 2001, our enrollment has increased 77% in headcount, 81% in SCH.  Tuition between FY 2003 and FY 2009 increased 88.1%.  That sounds frightening, but the real numbers are still surprisingly modest. Today, students pay $2,648.50 for 15 SCH; in 2003, they paid $1,434.50, a ridiculously low figure.  The reasons for the rise in costs are obvious ones, all taking shape between 2003 and the present: accountability and assessment, adequate technology, and student success.  We can of course account for what we are doing and where every penny is spent, we can assess the scope and extent of student learning and teaching, and we can provide for the success of every student.  But these are costly, if essential, goals, and rising tuition has covered those costs.  At the same time, we are told to spend less and spend it better.
Three sources of new money come to us this year. Two of these streams are a direct result of the work of our Student Success program—to recruit, enroll, and retain larger numbers of Laredo's college-age young people.  First, we were allowed to raise tuition, an amount which will just about cover the 3% pool for merit increases in salaries.  Second, additional monies put into formula funding meant that, with our growth, we realize and increase in general appropriations of $2.3 million.  We all owe an enormous debt of gratitude to Mr. Juan Castillo, our CFO, for putting together a Budget Action Committee, which received from the colleges their needs and priorities, how best to spend new money.  This committee, you may recall, was a voluntary group consisting of one faculty member from each college, a representative appointed by the Faculty Senate, a representative appointed by the Staff Senate, one representative each
from professional and support staff, an instructional administrator, a non-instructional administrator, and the Director of Budget.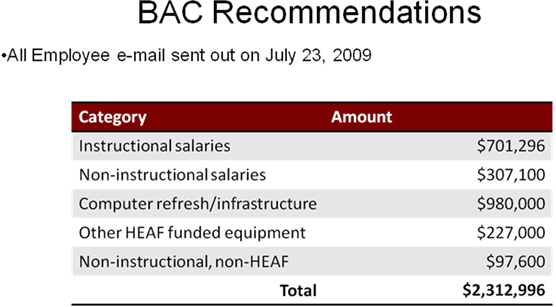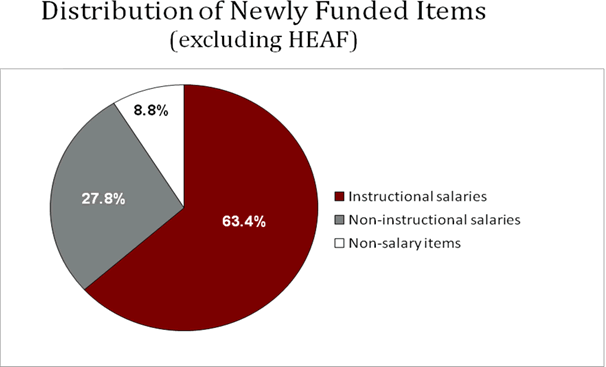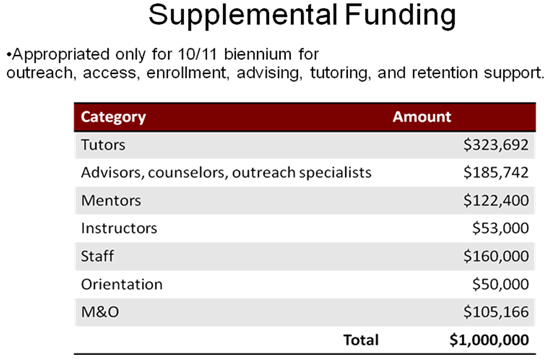 The third source of new money, a special supplemental appropriation, came as a surprise and brings enormous opportunity.  We have received $2 million or $1 million each year, for our Student Success program—outreach, retention, advisement, tutoring, academic support. The language is very specific as to how we may use this money, and these funds do not form part of our ongoing appropriation.  We can, of course, request that they be renewed in 2011, but only if we show that they have been used well.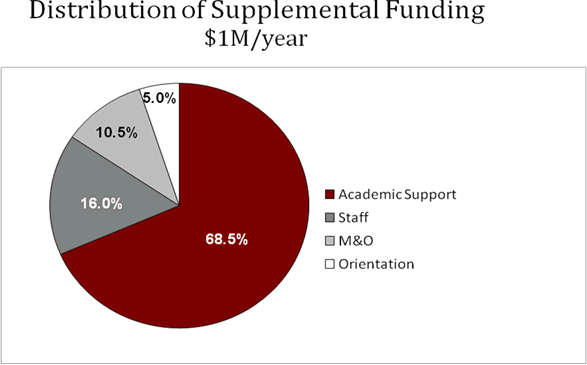 In athletics last year, we began our first year as full members of NCAA, Division II.  We completed two baseballs fields on campus, securing funds through donations.  In addition, we have entered into an agreement to allow our professional soccer team, the Laredo Heat, to use our fields in exchange for installing lighting and upgrading the premises.  That partnership has proved a strong and productive one.  We have hired Mr. Shane Rinner, head coach for Men's basketball, coming to us from Anchorage, Alaska, and Mr. David Beaver, head coach for Women's Basketball coming from Sam Houston State in Hunstsville, Texas.  Later this fall, we will launch a national search for a new athletic director, and Mr. Juan Castillo has already kindly agreed to chair that search.
We continue to pursue a partnership with Texas Public Radio to bring NPR to Laredo and radio-TV production to our communication program.  This has been a long and difficult project, with myriad unforeseen difficulties.  I hope we are nearing a happy conclusion.  At this point, it seems that the City of Laredo might purchase the license, then turn it over to the University to operate in conjunction with Texas Public Radio.
Fundraising this year has increased in spite of nationwide downturns in the economy.  We finished FY 08 having raised $3.2 million, and at this time, still short of the end of the year, we have raised $3.6 million.  This does not include many pledges which donors have asked to take a bit more time to fulfill.  Of course we understand, and I am confident that these gifts will be made as our economic house gets put right. I nonetheless expect several difficult years for development.
This spring we began with a strong cohort our pre-engineering program with College Station.  Faculty from the College of Engineering at A&M joined Bartell Zachry for a day in Laredo to meet these students and publicize this program.  It is a fine example of exactly the sort of productive collaboration possible in a System, though it was not easily or quickly put in place.
This summer, those students spent two weeks in College Station at the College of Engineering, hearing and seeing the goal of their study.
On-campus communication undergoes a dramatic change this fall, with the launch of our Portal, Uconnect.  This revision to our present web will separate inter-net and intra-net, creating an in-house portal to house content for internal use, and of no interest to external visitors to our site.  More important, Uconnect will allow for targeted conversations with our students.  Again, a much-needed change has taken several years and significant resources to realize.
Our Congressman Henry Cuéllar continues to pursue the possibility of building an Institute of Borderland Security on this campus, a federal and state project to serve the entire US-Mexican border.  Much energy has gone into these preliminary talks and plans.  If this project reaches completion, it will allow the University to become home to a Center whose activities encompass all dimensions of homeland security, an ideal venue for faculty research into all areas of the sciences, social sciences, and economic development.
Finally, for the first time in the fall of '09, we will offer developmental leave to three outstanding members of the TAMIU faculty.  By incorporating into our procedures this essential feature of all strong university programs, we will help ensure optimal faculty development and retention.      
I now turn to suggest to you areas I think need our collective consideration.  Here I would propose four topics.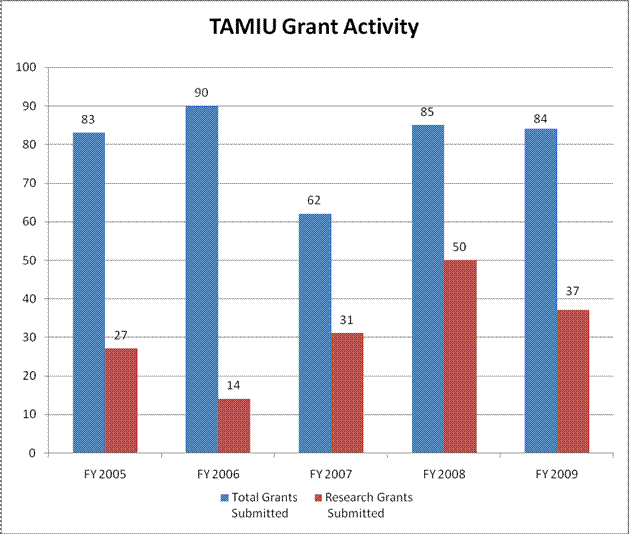 1.  Sponsored research. We must continue to press to improve our inventory of sponsored research projects.  Our only performance measure that remains unacceptable, sponsored research is increasing as we move into year three of the five-year plan to stimulate and expand opportunities.  For many years, we have debated whether or not to write a grant or to receive a grant should be considered for performance review a scholarly publication.  Our Provost this year will resolve the dispute, and announce to colleges a mechanism for acknowledging these essential steps for sponsored research.  A grant submitted will earn partial credit toward a scholarly publication; one submitted and funded will receive full consideration as a publication.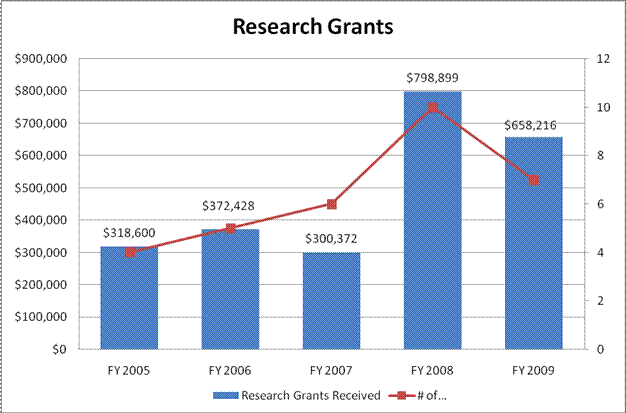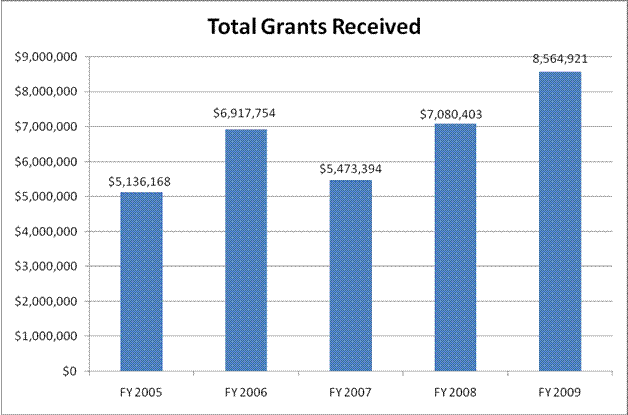 As you can see, we are making progress, but much ground remains to be gained. One small anomaly needs clarification.  In 2006-2007, responsibility of all private foundation grants moved under the office of the Vice President for Institutional Advancement.  The Office of Grant Resources actually processed more grants for sponsored research, though the total number was shared with Institutional Advancement.   

Our Chancellor, in addition to promoting a more aggressive research program for us, is also instrumental in expanding opportunities for students to learn how to conduct and share research.  This fall, November 13-14, TAMIU will be hosting the 7th Annual TAMUS Pathways to the Doctorate Student Research Symposium.  Students from every institution in the A&M System will converge in Laredo to present their ongoing research and make connections with likeminded students at other universities in the System.  Pathways will be a wonderful opportunity for us to showcase our beautiful campus and our students' research achievements.

2. Infrastructure. In spite of an aggressive building program on our campus, we still wage a constant battle to find space for classes and offices.  In the 2011 legislative session, we will ask for a TRB to build a large classroom building, one like Bullock or Pellegrino.  With a combination of HEAF and perhaps TRB monies, I hope we can add the 500-seat auditorium originally part of the Western Hemispheric Trade Center, sacrificed to the process somewhat quaintly known as "Value Engineering."  If we are successful in securing TRBs for the Library and for the classroom building, we none the less will not see those spaces completed short of three or four years from the time the TRB is authorized.  In other words, after completion of the Student Success Building, we will not see another building before 2014 or 2015.

While that may seem a long wait, we will spend some of that time expanding into spaces already under construction.  The opening of the Student Success building will allow must of our academic support team to move from the second floor of Cowart, opening up that space to the College of Education; their present space in Killam can then revert to the Library.  The bookstore and student success offices in the Student Center will also move to the Student Success building, making way for an expansion of our dining capabilities. Finally, I hope to move all the administrative offices—my own and the vice presidents—out of Killam Library and into a space more conducive to present-day approaches to management.  Those offices, magnificent though they are, were built on the old, hierarchical model.  The Presidents' is largest, and then each becomes progressively smaller as one moves down the organizational chart.  But all effort today is collaborative, with each person offering his or her perspective on all the big questions we face. A much improved model would place all offices of equal size in a circle, with support staff in the center and a common conference room. I hope we can, in the next couple of years, both give this space back to the Library and locate offices of the Presidents and Vice Presidents in spaces which better reflect how we think about our jobs. 

3. The University and High School.  When historians look at Governor Rick Perry's years in office, those interested in education will surely note that he has put in place—at the Coordinating Board and at the Texas Education Agency—a massive effort to focus upon education Pre-K through 16, or pre-kindergarten through the undergraduate years. The Texas High School Project, part of the Governor's initiative,  has been tasked with looking at our dysfunctional high school system (a national dilemma, not just Texas) and putting in place strategies to address poor completion rates and poor preparation for college study.  (In 2007, just 27% of all high school graduates in Texas were able to score "college ready" on either SAT/ACT.) We have on our campus two manifestations of that state-wide effort.  First, Early College High School this year adds its fourth cohort of 87 students, and in May will graduate from high school 100 young men and women with between 45 and 60 hours of University courses. 

This effort has been a costly one, for everyone, but also very rich in tangible accomplishments.  For its three years of existence, Early College High School has been the only high school in Laredo recognized as exemplary by TEA.  This means its students score exceptionally well on the State-administered examinations called TAKS.  The Laredo Independent School District has purchased land from the Killam family, five acres behind the fine arts building, and will build there classrooms to accommodate what is now in the temporary buildings behind the science building.  This facility should be ready in late 2010.

The second part of our high school collaboration is in fact a legislative mandate.  Beginning in the fall of 2008, every school district in Texas must offer all students the opportunity to complete up to 12 hours of college credits while in high school. Last fall, we had 341 students enrolled in History 1302, and in the spring 185 enrolled in English 1301.  Because the high school faculty accompanied their students and took a very active part in helping them meet our expectations, the results were very, very gratifying. 

I know there are varying views concerning the high school initiatives.  Some have said to me that this falls outside our mission, that we are turning the University into a high school, that we should back out of these agreements.   And to be sure, I, too, share a deep concern as to how these projects will evolve.  I think we all agree that a meaningful alignment between high school and college curricula is essential if we are to receive in our halls students prepared to perform as we hope. 

Our Pre-K-16 Council, again, created by the Coordinating Board and TEA, is to facilitate the preparation of students for college and their eventual matriculation in an institution of higher learning.  Organized this last year, TAMIU was designated Fiscal Agent for the Council, I was the first president, and Ms. Conchita Hickey was the driving force, organizer, and keeper of the money and records.

4. Strategic Plan.  In February, our new Strategic Plan is due in the Chancellor's office.  This exercise has often occasioned irritation among us, in part because our task for the past 15 years has been such an immediate and clear one:  build the buildings and put in place programs to fill them with productive students. 

But as we mark our 40th Anniversary, I think we all know that we have entered a new era.  Both building and adding of programs has slowed down.  Our focus now shifts to how we might provide the best environment for student success and the best environment for faculty teaching, research, and service.  A new Strategic Plan should help us capture a new repertoire of ideas, strategies, and possibilities for improving the learning environment for students and faculty.

This fall, we will hold a series of meetings with divisions and departments to think together about what we would like a new plan to contain.  The discussions will be bounded, with meetings scheduled for a maximum of two hours, organized to help ensure a useful exchange leading to a new action plan.  I plan to join Dr. Arenaz in meeting with academic departments and athletics; Mr. Castillo, Mrs. Hein, and Dr. Ramirez will organize meetings for their divisions.

Finally, because most of you sitting here this morning are our faculty, I end with a strong and ringing thank-you for the work you do, for means which, though often exhaustive and protracted, never exceed the end we have been given.

I hope this year we enjoy together many newly creative moments, sparked by new people with new ideas, reflections surrounding our 40th anniversary, and the crafting of a new Strategic Plan.  Much has happened in a very few years.  The SACS process and the State have put in place much that has changed the way we operate.  I do  not foresee new mandates as formidable as the SACS reaffirmation process, as unbending as the performance measures now embedded in  our lives, as painful as the retooling of all our processes to answer State-mandated requirements that we conserve resources and deploy them in a strategic fashion.

Our charge from the Chancellor and Board is clear.  We must, honoring the State-wide accountability system, do our very best for students.  And there is only one immovable constraint: we must live within our budget.  How we use those resources is mostly left to us.  This is the time to stretch our thinking, to adopt new strategies for our academic program, to consider what, I hope, seems risky.

That answer, my friend, is not blowing in the wind.  For this University, there is no static, intransitive position, nothing hovering in the air above us.  The answers are many and they are transitive ones.  They are plans for action at this moment in the hearts and minds of all of you.  Let's together make it happen.  Manos a la obra.


Ray M Keck III
President / Professor of Spanish
Texas A&M International University