Upcoming Events
The PROF Center with
Title V: GREAT and Title V: Sophomore Success
Experts Presenting at TAMIU
Scheduled: November 10th and 11th: Dr. Margarita Azmitia
Sponsoring Grant: Title V GREAT
Download AGENDA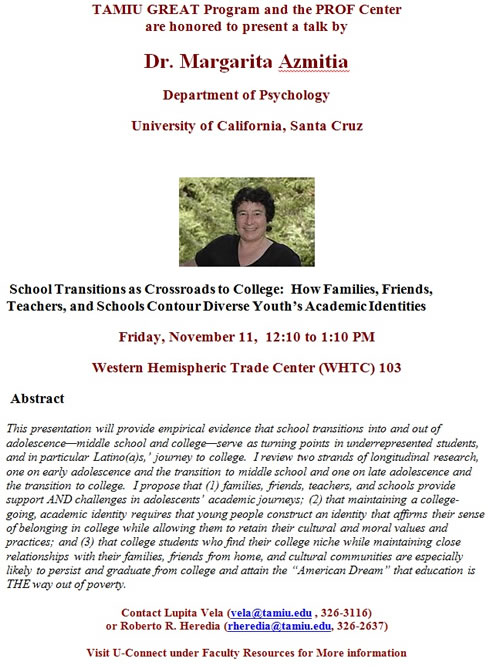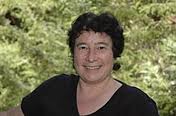 Margarita Azmitia's principal areas of interest are the social and cultural contexts of development. She is pursuing three lines of research: the contribution of children's and adolescents' friendships and peer acceptance to cognition and self-esteem, the contribution of family and peers to minority students' academic achievement, adjustment, and identity development, and the role of collaboration in the development of scientific understanding.

Several of Professor Azmitia's projects have involved studying children's, adolescents', and young adults' collaborative problem solving, particularly as it occurs in the context of scientific tasks or reasoning. She has also carried out observational and interview studies of children and adolescents' interactions with friends and classmates at school to gain a better understanding of the everyday dynamics of these relationships and their relation to school engagement and self-esteem.

In the last few years, Professor Azmitia has been studying how early and late adolescents manage important life transitions, and in particular, the transition to adolescence and middle school and the transition into adulthood and college. This work is particularly focused on similarities and differences in how ethnic minority and majority and low-income and middle/upper income adolescents manage these transitions and how their families, friends, and schools either provide support or challenge their adjustment, goals, and identity negotiations. Concerning identity, her work examines how adolescents and young adults negotiate their ethnic, gender, and social class identities in the academic and personal contexts of their lives.
Source: University of California, Santa Cruz Website