QM Course Reviews at TAMIU
Quality Matters promotes a peer review process and provides a database of trained QM Peer Reviews eligible for assignment to a peer review team.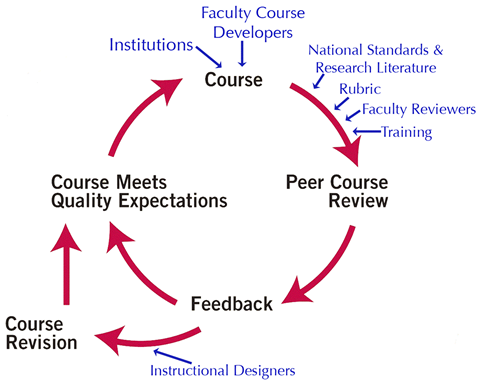 Review Process for Online Courses at TAMIU
At TAMIU, the following process will be followed for online course reviews:
The Faculty Online Course Developer will implement the Quality Matter Rubrics in the course that is being developed for online delivery with the assistance of an Instructional Technology Coordinator while the course is being taught.
An Internal Peer Course Review Team (made up of one Instructional Technology Coordinator and two TAMIU QM Peer Reviewers) will be assigned to review and provide the Faculty Course Developer with recommendations and feedback.
The Faculty Online Course Developer will modify the course based on the recommendation provided by the Internal Peer Course Review Team.
After the completion of an internal review process, a certified QM course review will be conducted through Quality Matters and TAMIU.
Interested in having your course reviewed?
Please contact the Institutional Representative, Dr. Abrego, for more information:
Dr. Patricia Abrego, Director of Instructional Technology and Distance Education Services
pabrego@tamiu.edu | 956.326.2792 | Killam Library 259

For more information about the course review process at TAMIU,
please contact the eLearning Team at elearning@tamiu.edu or at 956.326.2972.

---
Instructional Technology & Distance Education Services
Killam Library 259 •
Regular Hours
: Monday thru Friday from 8:00 a.m. to 5:00 p.m.
TEL
956.326.2310
•
FAX
956.326.2299 •
elearning@tamiu.edu