Specialty Classes
---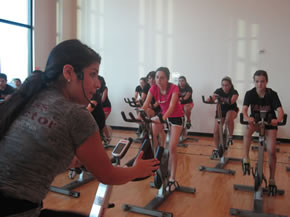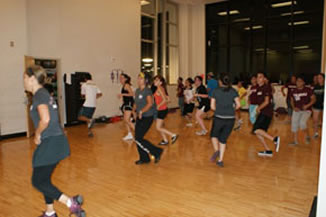 Check current Group Fitness Schedule for more Specialty Class dates and times.
Specialty classes are for paid members
Specialty class schedule coming soon.

The Zumba "pool party!" The Aqua Zumba program gives new meaning to the idea of an invigorating workout. Splashing, stretching, twisting, even shouting, laughing, hooting and hollering are often heard during an Aqua Zumba class. Integrating the Zumba formula with traditional aqua fitness discipline, the Aqua Zumba class blends it all together into a safe challenging, water-based workout that's cardio-conditioning, body-toning, and most of all, exhilarating beyond belief. Sandra Leal
Belly Dancing
An Arabian Abs and Back workout, technique learning and a lot of fun! Come and feel comfortable in your body! Sandra Leal
FIT (Fitness Instructor Training)
Come join FIT to begin the process of becoming a Fitness Instructor! Sessions are ongoing throughout each semester. After completing classes and auditioning you may have the opportunity to be a paid Fitness Instructor! See current fitness schedules for dates & times. Apply at the front desk! Denise Schuster Click here for information flyer
tPT (training Personal Trainers
)

SO YOU THINK YOU CAN TRAIN?
Come take this one hour session where you will learn how to become a Personal Trainer and use it for life. Take this class and we will prepare you to master the Personal Training Certification you need to be a Certified Personal Trainer.
We are hiring now, so don't wait to register. Class is ongoing throughout each semester. Where the professionals go to get certified.
Do what you love.  Love what you do.  Get the info.   Learn the techniques.  Get Certified.
Get an application and register at the front desk today!
To get on the waiting list for FIT or tPT or if you are interested in BECOMING A PERSONAL TRAINER or FITNESS INSTRUCTOR, contact Victoria Davenport at victoria.davenport@tamiu.edu or (956) 326-3017. We're hiring now!
All classes are held in the Rec Center Room 225 unless otherwise stated.
Schedule is subject to change. Check Rec Front Desk (956-326-2289) for any changes.
All classes are FREE for Rec members, except Specialty Classes & Instructor Training. All enrolled TAMIU students are Rec members.
*For any questions regarding hiring, schedule or making suggestions contact Victoria Davenport at victoria.davenport@tamiu.edu or 956-326-3017.