WATER FITNESS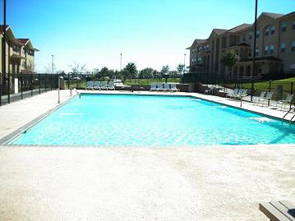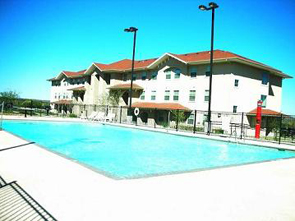 BEAT THE HEAT

...and join us for these parties in the pool!
Benefits:
Great workout

without

added stress on the joints
Fat burning and endurance building
Reduced risk for injury
Class is held in a shallow 4ft pool so swimming skills are not necessary
Enjoy aerobics using water & water weights as resistance
Increase your metabolism!
Water Fitness classes coming soon.

Aqua Zumba® – Known as the Zumba "pool party," Aqua Zumba gives new meaning to the idea of an invigorating workout. Splashing, stretching, twisting, even shouting, laughing, hooting and hollering are often heard during an Aqua Zumba class. Integrating the Zumba formula and philosophy with traditional aqua fitness disciplines, Aqua Zumba blends it all together into a safe, challenging, water-based workout that's cardio-conditioning, body-toning, and most of all, exhilarating beyond belief. Instructed by Sandra Leal

Beat the heat with this fun, low impact workout to get all the excellent cardio and weight training benefits in a nice cool pool! No swimming skills necessary - 4 ft pool located at the RLC. With water weights, noodles, kickboards, and water as resistance, it's just the right mix to get your workout on! Instructed by Ericka Mendoza
Space is limited for water classes, so register for classes today at the Rec Center front desk.
Please check back later for updates.
***Please note that through the Rec Center, the RLC Pool is only open to members during Water Fitness classes; and available to non-members through classes for the fee above.***