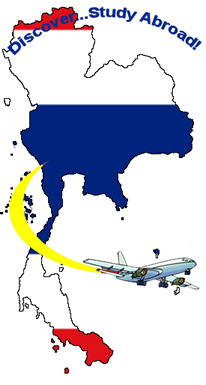 Communication Sciences and Disorders in Bangkok, Thailand
Program Dates
July 9 – July 31, 2012.
Program
TAMIU's College of Education will offer a three-week study abroad program in Bangkok, Thailand. Directed by Dr. Sumalai Maroonroge (who is a Thai native), you will experience Thailand in all its unique cultural aspects, while learning intensively about Audiology and Bilingual Speech Language Pathology from experts in the field and clinical experiences.
Thailand is a wondrous kingdom, featuring Buddhist temples, exotic wildlife, and spectacular islands. Along with a fascinating history and a unique culture that includes delectable Thai food and exotic Buddhist temples. Thailand features a modern capital city, and friendly people who epitomize Thailand's "land of smiles" .Thailand is located in the center of Southeast Asia, with Bangkok as its capitol.
Students studying abroad on this program will have the opportunity for a stopover in Tokyo, Taipei, Singapore or Hong Kong (depends on the final airline chosen) to further explore Asia. Regular program activities include class meetings, cultural visits in and outside Bangkok, lectures at host institutions, hospitals, and School for the Deaf, and team up with local students to share Bilingual and bicultural experience. The weekend field trips in three different regions will provide information about unique cultural, historical, and natural attractions of the north, south and northeast cities
Accommodation
Students will be living in hotels (double occupancy).
Program Cost
Program cost $2,910, excluding the round-trip airfare to Bangkok, TAMIU tuition and fees, and personal expenses.
Timetable for Applications and Payment
| | |
| --- | --- |
| 1 February | Application and $200 non-refundable application fee due. Pay your application fee HERE |
| 2 March | Mandatory Orientation: Travel Documents, Travel, and PreDeparture Tips, SC 231 at 8:30 am |
| 16 March | Program payment of $1,500 due |
| 30 March | Mandatory Orientaton: Culture Shock, Health & Safety, SC 231 at 8:30 am |
| 1 May | Remaining program balance of $ 1,210 |
Application Process
Turn in your TAMIU study abroad application and process the on-line application fee by the recommended deadline
Apply for any of the TAMIU study abroad scholarships for which you qualify
The financial aid budget form is for your own information, an update of your educational expenses will be provided by OIE to the Office of Financial Aid
Complete and turn in your Waiver and Liability Packet by 1 May 2012
Application Links
Financial Aid Budget Form
Waiver and Liability Packet
Study Abroad Scholarships
TAMIU/OIE offers two scholarships for study abroad. Qualified TAMIU students may complete their application and supporting documents and submit them to OIE together with their study abroad application. You will be notified via email of your award and the award disbursement date. Open dates for summer 2012 study abroad scholarship applications are Feb 1 - Mar 16th. Awards are made on "first-come, first serve" basis.
Course Information
All students are required to enroll in:
| | |
| --- | --- |
| CSDO 3313 | Into to Audiology |
Program Requirements
Students must have been approved by Dr. Maroonroge for acceptance into the program.
Refunds**
Withdrawal from a study abroad program must be made in writing to OIE. The application fee of $200 is non-refundable, unless TAMIU cancels the program. The application fee will be applied to your total program cost. After this, TAMIU will refund recoverable tuition and costs as determined by OIE. Refunds will be calculated from the date OIE is notified in writing of your intent to withdraw. TAMIU is not responsible for indirect costs paid directly by students, including but not limited to passport fees, vaccinations, and transportation costs.
Contact Information
International Education / Student Affairs

Student Center 226

T: 956.326.2280

Dr. Sumalai Maroonroge

Communication Disorders

Killam Library 421C

T: 956.326.2682
*TAMIU reserves the right to make changes to this itinerary as deemed appropriate by the program director due to unforeseen circumstances. However, every effort will be made to adhere to the itinerary as closely as possible
**TAMIU reserves the right to adjust program fees or cancel any program without prior notification; however, every effort will be made to provide information on cancellations in a timely manner. In the event of cancellation, TAMIU will refund application fees and recoverable program fees.