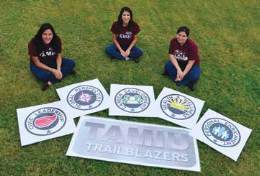 TAMIU senior Biology major Alejandro Barrera
believes that TAMIU study-travel programs have
changed his life and will impact his future.
APre-Dental trackstudent, he's loggedover 18,000
miles in TAMIU Study-Travel Programs including the
Reading the Globe Program in Ghana and WorldMUN
programs in Singapore and Vancouver.
He firmly believes TAMIU opportunities for study-
travel will impact his life for years to come.
"Traveling abroad has changed the person I
am and the person that I aspire to be. Through my
experiences abroad, I have learned so much about
what it means to be alive and how small the world
actually is. I have been introduced to so many new
cultures and ideologies that have made me more
tolerant and curious about other groups of people.
"Traveling abroad challenged me by forcing me to
escape my comfort zone and has given me drive to
do more. These experiences will impact my future by
allowing me to easily adapt to new and challenging
situations and by getting me to think outside the
box when trying to solve problems and overcome
obstacles," he explained.
Barrera said the experiences have also fanned his
"As soon as I stepped out of the airplane in Ghana,
my world changed. I quickly realized that there is
so much more to the world than I ever imagined.
We helped build a village school, volunteered at a
children's orphanage, and visited students at a local
library. When we returned, we raised money to buy
supplies for the orphanage children. We raised about
$1,000 to buy school, medical, and health supplies for
the Osu Children's Home in Accra, Ghana," he noted.
The busy Freshman Student Mentor, president of
the Model UN Society of South Texas and participant
in the Dental Early Acceptance Program, has at least
one more trip ahead: this March, he'll join the next
TAMIU is helping to grow tomorrow's leaders
today…and it's blazing trails as it does so, so to
The innovative TAMIU Trailblazers program is a
new co-curricular leadership initiative that serves
as a student's roadmap to success. It enables
registered TAMIU students to access co-curricular
programs that compliment classroom learning,
helping them to become better prepared and more
competitive in both the ever-changing global job
market or graduate studies.
To provide the broadest range of nurturing
leadership experiences, the Trailblazers program
is divided into five learning Dimensions; Career
Development, Civic Leadership, Global Perspective,
Health and Wellness and Personal.
Within each of the Dimensions, students
progressively journey through three levels of
engagement: Entering Stage, Engagement Stage
and the Leadership Stage. The linked curriculum
works as a guide to direct students along the path
Tohelp insure student success, eachTrailblazer's
progress is tracked and displayed on a digital
progress screen. When printed, it yields a Co-
Curricular Transcript that attests to the Trailblazer's
leadership accomplishments. Students who
complete the entire Trailblazer curriculum receive
Students become
Leaders with
New TAMIU
Trailblazers Program
TAMIU Student's
Study-Travel
Opens World, Impacts
Future