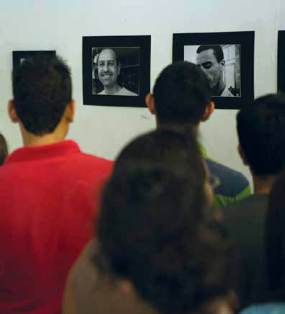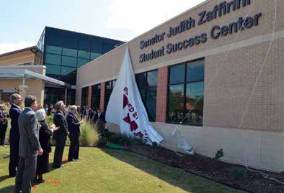 mmigrant
al Lens
Leaders from around the State stood shoulder
to shoulder with TAMIU students and alumni for
the formal dedication of the Senator Judith Zaffirini
Student Success Center in September.
In attendance were Governor Rick Perry and Lt.
Governor David Dewhurst. Texas A&M University
System Chancellor, John Sharp, was joined by
members of The Texas A&M University System
TAMIU president Dr. Ray Keck has said that
the dedication was most fitting in light of Senator
Zaffirini's legacy of supporting higher education at
TAMIU and across the State.

"She knows education. She is herself a product
of a remarkable education. She maintains a laser
focus on TAMIU and is deeply engaged in the life
of our institution and our students. From helping
to secure legislative funding to helping us attract
critical student scholarship support, she is front and
center. Her tireless advocacy and leadership have
been pivotal in TAMIU becoming a major regional
university of choice. What better building to have
her name associated with than one that dedicates
itself, like her, to student success?," he observed.
Made possible by State funding initiated by
Sen. Zaffirini in the 2006 Legislative Session and
approved by Lt. Gov. Dewhurst, the Zaffirini Student
Success Center centralizes essential student
services areas under one roof.
Leaders Come to TAMIU
for Student Success
Center Dedication
Italy, her project expanded to include photos of
immigrants in Argentina and Perú.
De La Torre took advantage of TAMIU's Study
Abroad programs and believes that they helped her
She says she's had artistic tendencies since age
five and comes from a family of artists. In addition to
her TAMIU classes, she studied art and photography
at the San Francisco Art Institute, Florence, Italy and
in Buenos Aires, Argentina.
She also works in video and painting. Her self-
produced video about the University's "Powered
by TAMIU" campaign won an honorable mention.
Exemplifying Excellence