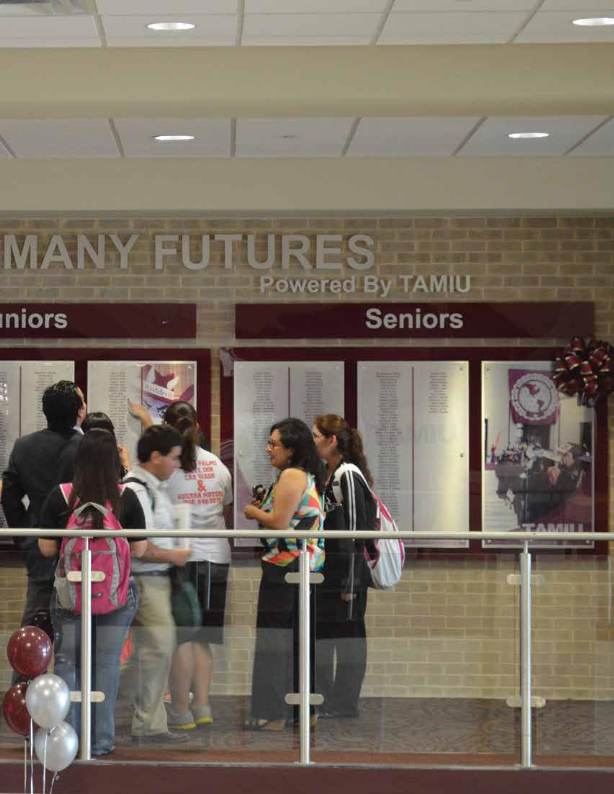 TAMIU
Students
Going to
The Wall for
On-time Graduation
Some students dream of seeing their name in lights,
but at TAMIU, dedicated students completing their
undergraduate degree in four years see their
name on a wall, all 18 feet of it.
The students' names are included in a special
permanent display known as the Student
Success Wall in TAMIU's Senator Judith Zaffirini
Student Success Center on the second floor.
Dr. Conchita Hickey, executive director of University
College, said the Student Success Wall bears the names
of on-time sophomores, juniors and seniors that are
making timely progress to graduate in four years.
"These students have made a commitment to
completing their education in four years. Many have taken
part in our Student Success Programs offered through
University College that provide student support services
such as tutoring, mentoring, time management and
experiences focused on engaging students more
fully in University life," Dr. Hickey explained.
Hickey said the Wall display offers a strong visual
endorsement of the students' progress.
"As the Wall notes, 'Four Years, Many Futures'…we
want to celebrate students who realize that their futures
are infinite through higher education and that the faster
they complete their undergraduate degree, the closer
Building
Legacies