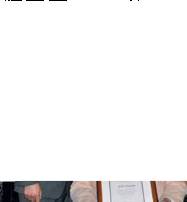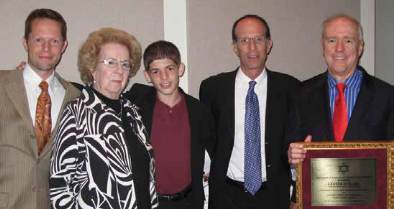 Building Legacies
TAMIU Now Home to South Texas
Jewish Heritage Collection
Laredo's Jewish community
This Spring, the new South
Collection in the Sue and
Radcliffe Killam Library was
105-minute documentary film
tracing this legacy created
by the Goldring/Woldenberg
Institute of Southern Jewish
Life (ISJL). The film was
made possible with support
from International Bank of
of the late Lester Avigael, a
longtime IBC board member and past president
who passed away in 2008. Avigael was a pillar of
Laredo's Jewish community.
Featuring interviews with members of
Laredo's Jewish community, the documentary is
the cornerstone of the new Collection, said TAMIU
A rare trail of incense smoke curled above the stage in November
at TAMIU's Center for the Fine and Performing Arts, helping to signal a
Special Blessing for the Sharkey Corrigan Pipe Organ at an event dubbed
"A Celebration of Thanks."
While first inaugurated in July of 2006, the Organ, a gift of the E. H.
Corrigan Foundation, had not been blessed. Father Michael Scheerger,
Congregation of St. John, and Reverend Paul Frey of Christ Church
Episcopal performed the blessing.
Adding to thememorableoccasionwasaseriesof special performances
guest organist David Eaton, the Laredo Philharmonic Brass Ensemble,
the Laredo Philharmonic Chorale and the TAMIU Chamber Singers.
E. H. Corrigan, passionate supporter of the arts and Foundation
namesake, was on hand and enjoyed meeting with the artists, students
Special Collections librarian Jeannette Hatcher,
who also prepared a special exhibit about Jewish
life in South Texas displayed in the TAMIU Student
Left to right are Avigael's grandson Josh Avigael; Lester Avigael's wife; Selma, grandson Elliot; son Jack
Avigael and Dr. Ray Keck, TAMIU president. The new Collection will be housed in the Sue and Radcliffe
Killam Library.
The Sharkey Corrigan Pipe Organ:
Giving Thanks, Giving Blessings
Photo: Mario Vásquez, CEO of KLRN TV
San Antonio, helps recognize E. H. Corrigan'
lifelong support of the arts in Laredo.