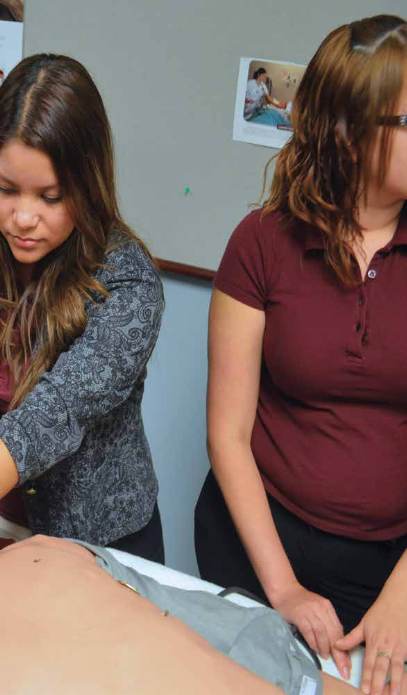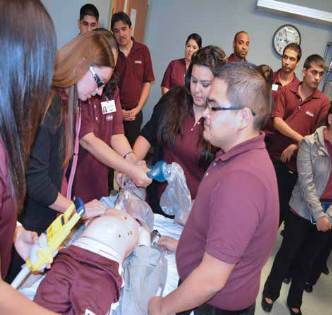 Don't Call Them Dummies:
Training Mannequins
Help Nursing Students
Become First Responders
She's really scared. Her face is gripped
with pain. But 'she' isn't really a she at
all…she's a simulation mannequin helping
TAMIU nursing students become certified as
Some 46 TAMIU nursing students
joined a specialized team lead by William
Arnold from the Texas A&M Engineering
Extension (TEEX) for Chemical, Biological,
Radiological, Nuclear and Explosive
(CBRNE) Training this semester.
CBRNE training helps first responders
learn how to manage medical events that
involve any of these agents. While the two-
day training is largely face-to-face, the use of
state-of-the-art mannequins helps students to
respond to real-life patient emotions, traumas
and behaviors that would be expected in
such events. Completing the certification is
a requirement for all senior TAMIU Nursing
It's offered as part of NURS 4522:
Community Health Nursing that focuses on
students practicing collaborative skills in
conjunction with the interdisciplinary team
in order to provide comprehensive care to
populations and communities experiencing
complex needs including natural or man-
TAMIU's College of Nursing offers a
BSN degree, a completely online RN to BSN
completion degree, a Master of Science in
Nursing and a Master of Science in Nursing
For more on TAMIU Nursing Programs,
contact the Dean's Office at 956.326.2574,
offices in Dr. F. M. Canseco Hall.
14