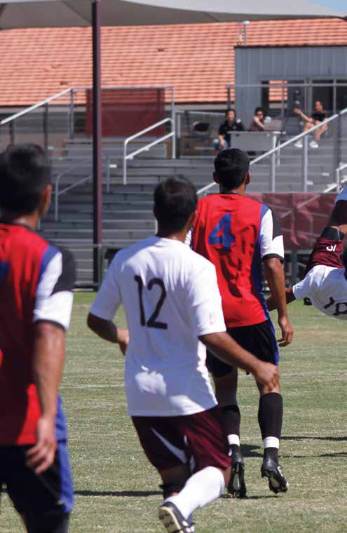 The Heartland Conference championship has returned to
TAMIU's Men's Soccer team for the third time in four years,
creating the Conference's most convincing dynasty of the last
TAMIU clinched its third crown, and first since going
back-to-back in 2010-11. The Dustdevils missed a fourth
title to St. Edward's off a miracle strike with less than two
TAMIU finishes its Heartland Conference
championship season 7-1-1 and 9-6-2 overall. The
Dustdevils witnessed the final games of its senior class,
including captain Arturo Gutiérrez, Jesús Cisneros,
Adrian Elicerio, Jaime Cano, Yamin Olavarrieta, Walter
Anoruo, Joan Vallejo and Diego Manzano-Cano.
The programmatched its 2012 total of postseason
conference awards as well.
Headlining the honorees, freshman Ryan
Hodgson – a 6-foot-2 forward from Sunderland,
England – scored the Heartland Conference's
Freshman of the Year recognition. Hodgson was
also named to the All-Heartland Conference First
Team, standing as the only freshman among the
Joining Hodgson among the first teamers
are senior midfielder and team captain Arturo
Gutiérrez and senior center back Walter
Anoruo. The three total first teamers'matches
TAMIU spiked the All-Heartland
Conference Second Team as well, landing
junior midfielder Jovany Macías and
sophomore center back Camilo Botero
The six newest Conference accolades catapult
the Dustdevils' total to 46 since joining NCAA
Division II athletics in 2008. The Dustdevils won
Conference championships in 2010, 2011 and 2013.