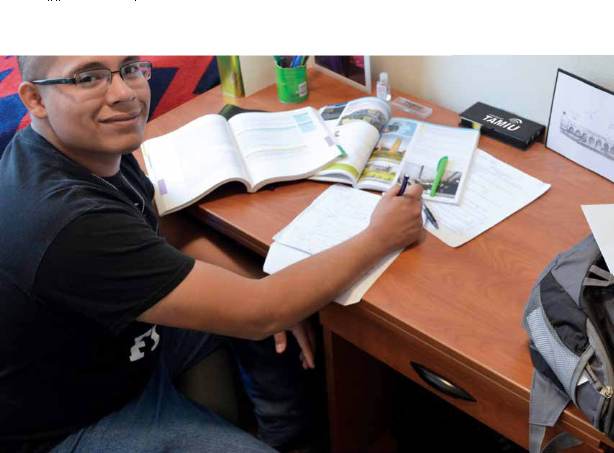 Home. It conjures up images of love, safety, and a
consistency of experiences… and so the word
homeless
wickedly embraces the absence of all those expectations,
a stunning guarantee of an experience truly less than
For TAMIU freshman Bryan López, having a home at
age 19 is a very new and wonderfully exciting thing. The
bulk of his high school years were spent being homeless,
overcoming abuse and dealing with life's misfortunes.
But his focus on graduating from high school never
wavered and he did so last summer. Shortly after, the
story of his struggle and achievement was profiled in a
The Laredo Morning Times
The story galvanized administrators and faculty
at TAMIU who sought him out. They worked with the
University's Institutional Advancement and Financial
Aid offices to secure a financial aid package made
possible by donors and partners. And, most importantly,
it offered López something he had not had: a home.
Now completing his freshman year at TAMIU, the
Criminal Justice major said the experience has been
both humbling and elevating. "I never had my own bed,
my own personal space. It's just been awesome. I have
a home and I feel at home. I have friends and in my
heart I know I can change the world," he smiled. He's
maintained a strong 3.0 GPA in his first year and says
I have had my mind spun around in space.
And yet I've watched it growing…
When I think of home I think of a
place where there's love overflowing…
7
No Longer Homeless;
Home