United States/ Mexico Relations
Events - 2014
This was the first Eagle Ford Consortium Meeting in Laredo. At this event, the new Binational Committee of the Eagle Ford Shale Consortium was introduced. The mission of this new committee is to assist US and Mexico business, government, institutions, and universities in their endeavors to engage in bi-national commerce related to the oil and gas industry for the mutual benefit of each country and its citizens. Some of the presenters at the event were AMESPAC Director Antonio Juárez, CNH Commissioner Guillermo Dominguez, Mexico City Attorney Javier Zenteno of Zenteno-Lira Mora Abogados, and Mexico City Attorney Juan Carlos Solis of Solis Mendoza Abogados. Please see list below for their presentations, and click here to see the agenda for the day.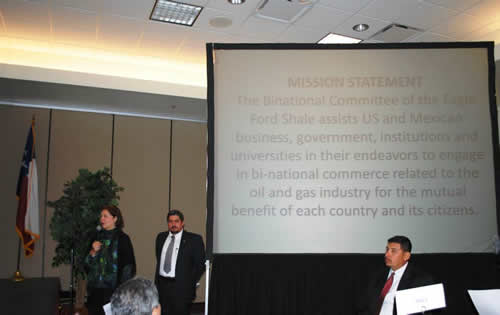 This was the first meeting of 2014 and the first in Saltillo, Coahuila, Mexico with our International nonprofit organization. The meeting took place at Instituto Mexicano Norteamericano de Relaciones Culturales. We had members from Monterrey, Saltillo, and Laredo in attendance.

March 25, 2014 - Eagle Ford Consortium Healthcare Committee Meeting
The Binational Center and Mrs. Patricia Keck hosted a meeting where all parties linked to the healthcare sector of the Eagle Ford Shale boom could gather and share ideas to improve our community. Some of the presenters included Sister Maria Luisa Vera, Fire Chief Steve Landin, Dr. Hector Gonzalez, Rene Lopez from Doctor's Hospital, John Ulbricht from LMC, and Julie Bazan from the Laredo Health Coalition who covered topics such as Public Health Perspective, Hospital Perspective, and First Responders Perspective.
In celebration of women's history/leadership month, the Binational Center hosts Dr. Denise Dresser and the ladies of the "Instituto Municpal de la Mujer de Nuevo Laredo" at a special luncheon to commemorate their wonderful work.

The Binational Center presents a Unique seminar series about the Four Immeasurables, also known as Brahmaviharas or the Four Dwellings of the Heart. Please join us as Professor Alan Murillo of Casa Tibet Mexico, explores each of these immeasurables: Loving-kindness, Compassion, Joy, and Equanimity. To see the presentation, please click here or for more details on the event click here.

This was our yearly event with Instituto Tecnologico de Nuevo Laredo, where we host about 50 of their Engineering students on topics of interest in their field of study and opportunities available to them as upcoming graduates. Some of the topics covered were "Eagle Ford: Texas Impact" presented by the Binational Eagle Ford Shale Community Porgram, "Eagle Ford: Mexico Impact" by Dr. Luis Fernando Camacho Ortegón from Universidad Autónoma de Coahuila, a presentation on working Visas for professionals by Vice Consul Virgil Carstens of the U.S. Consulate General in Nuevo Laredo, and "Opportunities in Mexico" by Ing. José Gerardo Treviño Guzmán from the City of Nuevo Laredo.
May 14, 2014 - Workshop for Nuevo Laredo Energy Development Committee
The Binational Center hosted the Energy Development Committee from the City of Nuevo Laredo for a workshop about Eagle Ford Shale case studies and all background information necessary for a better understanding of this booming phenomenon.
May 22-23, 2014- Texas International Energy Summit 2014: Chapter Laredo

Texas Energy Summit, on its chapter Laredo Energy, will be the first international gathering point in which professionals, entrepreneurs and authorities will participate with informative conferences and an Expo (& Trade Show). In this symposium panelists will analyze investment opportunities, the supply chain, and all the ongoing aspects of Mexico's Energy Reform.
Presentations:
June 11, 2014-

The Rotarians Meeting, Laredo, Texas

Presentation:
This was a conference organized by the Councils of Governments West and the Binational Center where some of the speakers included Diputada Imelda Alejandra de la Garza, Chris Wilson of the Woodrow Wilson Mexico Institute, Alberto Flores of U.S. Customs & Border Protection of the Laredo Port of Entry, Geronimo Gutierrez from Northern Ameican Development Bank, Leodoro Martinez of the Eagle Ford Consortium, Antonio Juarez from the Mexican Business Association of Petroleum Services (AMESPAC), and Maria Eugenia Calderon-Porter of the TAMIU Binational Center among others.
Presentations:
Presentations:
The Binational Center presents a follow-up seminar to the Four Immeasurables. What is loving-kindess? How can it be developed? Please join us as we explore "Loving-kindness" in greater detail both in theory and in practice to see how we can cultivate a deeper connection to our heart by applying these age-long teachings to our everyday life.
A first-ever meeting of Mexico legislators and U.S. legislators and community members confronting the United States migrant crisis. Dubbed the 1st Binational Conference Council of Congressman and Migrants, Coordinación Nacional de Diputados y Migrantes (CONADYM by its Spanish acronym), the event is open to the public. Among presentations, Rebecca Solloa, Executive Director of Catholic Social Services of Laredo and Michael Smith, Executive Director of Holding Institute, will explore "What Happens to Migrants After they Cross into the U.S.?" Dr. John Kilburn, TAMIU Associate Dean of Research and Professor of Sociology and Criminal Justice will review "The Travelers Assistance Initiative for Immigrants"
The Binational Center presents a follow-up seminar to the Four Immeasurables. This time focusing on "compassion", which is often understood as pity in our culture. However, in ancient tradition of the Buddhist teachings, compassion is something much deeper and all-encompassing. More importantly, it is a trait that can be expanded with practice. The teachings of the Buddha propose a series of easy-to-learn, yet spiritually sophisticated methodologies to work out our "compassion muscles". Please join us to learn about these tools that may be applied to any person wishing to cultivate a good heart.
This was our first Conference for the Systems Engineering students from Instituto Tecnológico de Nuevo Laredo (ITNL). Some of the presentations included "Opportunities for Graduate Studies at TAMIU" by Suzanne Alford from the Office of Graduate Studies & Reserach and Leiza Nochebuena from the College of Business, "The Evolution of IT Services" by Ken Miyamoto from Dell, and a presentation by Dr. Heriberto Garcia from the TAMIU College of Business, as well as a panel discussion by ITNL alumni sharing their success stories in the Systems Engineering field.
Following our two previous seminars on loving-kindness and compassion, we will focus on two essential tools for tapping into and expanding our heart: the joy of seeing others' happiness and the deep recognition of their yearning to be well and happy. As before, we will be using meditation and open discussion to touch our innate potential through practical exercises which anyone can learn and apply in their daily lives.
For additional information contact us at:
Texas A&M International University
OFFICE OF GLOBAL INITIATIVES
Binational Center
International Language Institute
5201 University Boulevard
Pellegrino Hall 301
Laredo, Texas 78041-1900
Tel: 956-326-2834
Fax: 956-326-2836
Email: binationalcenter@tamiu.edu
Office Hours:
Mon. - Fri., 8 am - 5 pm
Become our fan!