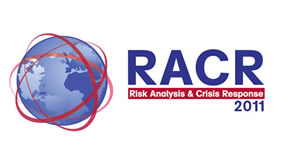 Conference Overview | Keynote Speakers | Call for Papers | Topics | Conference Topics
3rd International Conference on Risk Analysis and Crisis Response

May 22-25, 2011


The world faces more insecurities and challenges than ever. Just recently human kind witnessed the worst oil spill in history, the most devastating monsoon in 80 years, unprecedented wildfires in Russia originated by the hottest July ever recorded, and a massive 7.0 magnitude earthquake devastated Haiti in January.
These and many other catastrophes the world has confronted are redefining the way countries approach disaster and crises management. For instance, the tsunami in the Indian Ocean in 2004 enticed 25 nations to develop the Tsunami Warning System (TWS) in the Pacific; similarly the global financial crisis that started in 2007 and still looms on the horizon has forced new banking regulations and financial measures, and the earthquake that struck Chile in February of 2010 has had implications that affected building codes and standards around the globe.
Along with natural disasters, the world encounters shadows of deadly diseases, food shortages, soaring energy prices, acts of violence, and wars. All of these threats pose remarkable risks at various scales. Coping with them requires the collaborative efforts of scientists, policy makers, and first responders.
RACR are biennial international conferences launched by the Risk Analysis Council of China Association for Disaster Prevention. RACR Conferences aim to provide an international forum for specialists and stakeholders in risk analysis, crisis response, and disaster prevention. RACR-2011 will be the third conference in this series, following the successful RACR-2007 in Shanghai and RACR-2009 in Beijing.


WHO SHOULD ATTEND

We welcome researchers, policy makers, and practitioners from academia, government, and industry who share an interest in risk analysis and crisis response.


WHY YOU SHOULD ATTEND
At this forum you will:
Learn about the latest theoretical advances and cutting-edge technologies in the field
Make your voice heard on an international stage
Interact with top talents from around the world as well as build contacts


USEFUL LINKS:
For additional information contact us at:
Texas A&M International University
BINATIONAL CENTER
5201 University Boulevard
Pellegrino Hall 301
Laredo, TX 78041
Tel. 956-326-2834
Fax 956-326-2836
Email: binationalcenter@tamiu.edu
Office Hours:
Mon. - Fri., 8 am - 5 pm