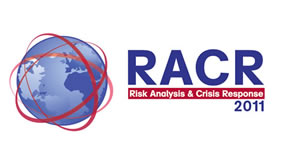 Conference Overview | Keynote Speakers | Call for Papers | Topics
Conference Agenda | Location | Accommodations
Registration Information | Exhibitors | Expo | Sponsors | Organization | FAQ | Contact Us
Keynote Speakers
Monday, May 23, 2011, 12:00pm
Mr. Robert Hurst
Mr. Robert Hurst is the founder and principal of the consulting firm Critical Leadership and has a broad background in disaster preparation and crisis management. Mr. Hurst is Certified in Protection Professional, Homeland Security, and Disaster Planner. He holds a Master Peace Officer Certification, is a Licensed Paramedic, and a registered Security Consultant in the State of Texas. He is the former Director of Homeland Security for Nacogdoches, Texas, and during his tenure acted as the Incident Commander in the shuttle Columbia Disaster recovery efforts, as well as hurricanes Rita and Katrina.
In his 30 years of disaster, crisis, and emergency work, Robert has dealt with local floods, major oil well blow-outs, hurricanes, and all executed within the confines of an under-equipped and under-staffed rural area. He currently direct his efforts through his consulting firm to develop and train critical leadership skills and disciplines that are necessary for resilience, recovery, and growth during and after crisis times. He is author of the book Leadership When the Sky Falls - Leadership Lessons from the Shuttle Columbia Disaster, an energetic keynote speaker, and devoted husband.
Monday, May 23, 2011, 5:30pm
Prof. Chongfu Huang
Prof. Chongfu Huang, a full professor of Beijing Normal University, is president of the Society for Risk Analysis – China, and president of the Risk Analysis Council of China Association for Disaster Prevention. In 1982, he graduated from Yunnan University with B.A.Sc. in mathematics. In 1985 graduated from Institute of Engineering Mechanics with a Master's degree in earthquake engineering. In 1995, he graduated from Beijing Normal University with a Doctor's degree in applied mathematics. From 1993 to 1995 he worked in Beijing University of Aeronautics and Astronautics as a postdoctoral research fellow.
Prof. Huang worked in the Chinese University of Hong Kong as a research associate, in Tokyo University of Science as an associate professor in 1996. As a visiting professor, he worked in University of Ghent, Belgium, in 1997 and in University Nebraska at Omaha, USA, in 2000. From 2000 to 2001, he was a Mercator professor and worked in University of Dortmund, Germany. As a visiting professor, he worked again in Tokyo University of Science and University of Ghent in 2004 and 2006, respectively.
His significant contributions to science would involve the discovery of the principle of information diffusion. From 1994, he devoted to study disaster risk issues and to develop the risk discipline in China. His significant contributions to society would be that he established Risk Analysis Council of China Association for Disaster Prevention in 2004. He has published 179 papers and 10 books.
Wednesday, May 25, 2011, 12:30pm
Prof. Jinren Ni
Professor Jinren Ni is Deputy Dean of the College of Environmental Sciences and Engineering at Peking University, China. He has published more than five books and 100 papers in international journals in the fields of environmental sciences and engineering with particular interests in water- and sediment-induced disasters. He is the founder and director of the Key Laboratory of Water and Sediment Sciences, Ministry of Education, and the Institute of Environmental Engineering at Peking University presently comprises more than 140 staffs and graduate students. Professor Ni has been editorial board members of over 10 journals and received over ten awards at national or ministry levels.
Binational Center
5201 University Boulevard, Pellegrino Hall 301
Laredo, TX 78041
Tel. 956.326.3068 - Fax 956.326.2838
Email:binationalcenter@tamiu.edu
Office Hours: Mon - Fri, 8 am - 5 pm.