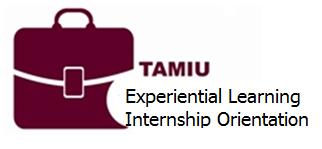 Dear Employer,
On behalf of Texas A&M International University (TAMIU) the Office of Career Services invites you to participate in the TAMIU 2017 Experiential Learning Internship Orientation on Fall 2017. 
As an exhibitor, you will have access to a talented student/graduate population interested in an Internship, Research, Service-Learning, Shadowing and Volunteer. During the orientation, there will be plenty of opportunities to network with TAMIU students and alumni. Allow us to partner with you in your search for qualified and prepared candidates.
TAMIU Student/Alumni Registration:
Registration for this event is not mandatory and the events are free to students and alumni. To show interest and receive announcements about this and upcoming events, please RSVP by clicking the links under the descriptions to register on our TAMIU calendar page, events page on Facebook or in your DustyWorks! (Login> Career Events> Search> "2017 Experiential Learning Internship Orientation"> Register for Event)!
Recruiter Registration:
The registration fee is free and includes: (1) skirted 6 ft. table, (2) chairs and wireless internet access for the TAMIU Experiential Learning Internship Orientation on Wednesday, November 8, 2017 from 10 a.m. - 12 p.m. 
Information to register click on the link below:
Useful Links:
For information concerning your participation at TAMIU's 2017 Experiential learning Internship Orientation, please contact:
Celina Maniece, Assistant Director of Career Services
Texas A&M International University - Office of Career Services
5201 University Blvd.Laredo, Texas 78041-1900
Phone: 956.326.4473 / Fax: 956.326.2259
---
Office of Career Services / Office of the Vice President for Institutional Advancement
  Student Center 114 • Regular Hours: Monday thru Friday from 8:00 a.m. to 5:00 p.m.
  TEL 956.326.HIRE (4473) • FAX 956.326.2259 • careerservices@tamiu.edu