Dr. Mark Boseman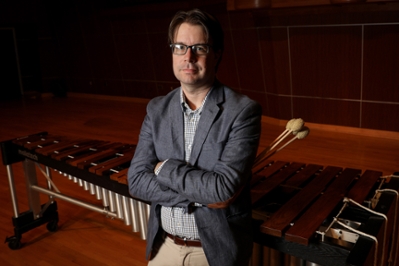 Assistant Professor of Music
courses: Percussion, Percussion Ensemble, Percussion Methods
Dr. Mark Boseman is a percussionist who specializes in both contemporary solo percussion as well as contemporary chamber music. His performances encompass a variety of styles that range from standard orchestral repertoire and contemporary chamber music to popular music styles. In addition, Mark has performed with a wide variety of ensembles ranging from the Civic Orchestra of Chicago to small chamber groups.
Recently, Dr. Boseman performed with the Eastman Broadband, a new music ensemble comprised of past and present Eastman students. In 2010, he accompanied the Eastman Broadband on their tour of New York City, Mexico City and the Cervantino Arts Festival in Guanajuato, Mexico. Dr. Boseman has been a featured soloist with the University of Arkansas and the Northwestern University percussion ensembles. In 2008, he accompanied Michael Burritt and the Northwestern Percussion Ensemble on their residency at the Musikhochschule in Stuttgart, Germany. He is also the recent recipient of the Eastman School of Music's prestigious performer's certificate.
Dr. Boseman holds Bachelors and Masters degrees from the University of Arkansas and Northwestern University and a Doctorate of Musical Arts degree from the Eastman School of Music. His primary teachers have included Michael Burritt, Chalon Ragsdale, Bill Cahn, James Ross, Charles Ross, Rich Thompson and Paul Wertico.