"Saturdays at Bethany House – La Luz de Esperanza –are special.  As you walk in, a classroom of creative talented students welcome you with a smile.  Being my second semester of service learning and after teaching a lesson Jackson Pollock and Abstract Expressionism, I still wanted to learn more and find a way to meet each individual student; I wanted to know about their traditions, interests, values, achievements, dreams, and most precious memories.
Influenced by the passion for art and my undergraduate degree in Art and minor in Creative Writing, I believe that both are empowering tools that meet with the commonality of self-expression.  The poem "I Am From" by Dr. Mary Pipher, introduced by my mentor Dr. Tonya Huber, inspired a lesson in which students learned about the author and poem to write about their own identity including influential friends and/or family members, challenges, sacrifices and memories at home, in school or at special places, particular foods, cultural customs and holidays, quotes and sayings—all with the purpose of understanding where they come from. Students were assisted with a sample template that was simplified to their appropriate age level and translated into the English and Spanish language as a guide to create their poem. Starting every line with "I am from," students transferred their poem into a mixed media paper with colored pencils, markers, stickers, gel and calligraphy pens in the form of a fingerprint. Students understood that fingerprints identify individuals from their own unique pattern of swirls in their fingertips.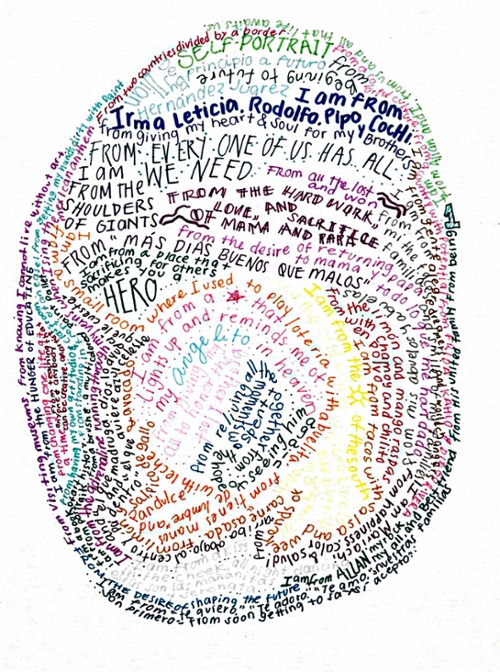 Dr. Mary Pipher's I Am From in Art Application and Poetic Expression for Identity Exploration inquiry project focuses on the need of a multicultural curriculum to foster sensitive, appreciative, and respectful students who embrace their uniqueness and the cultural diversity in the world. My mission is to share my passion for art and art history in the classroom by exploring multiple objectives that can focus on the benefit of the student beyond the traditional curriculum and standards.  I hope to share this philosophy with all of those who educate in any way, because the future of the world starts with us in the classroom."
Dr. Mary Pipher's I Am From in Art Application and Poetic Expression for Identity Exploration from Ilian Hernandez on Vimeo.


References
Huber, T. (2002). Quality learning experiences (QLEs) for ALL students. San Francisco, CA:      Caddo Gap Press.
Pipher, M. B. (2007). Writing to change the world (First Riverhead trade paperback edition.).       New York, NY: Riverhead Books.