Master of Science in Educational Administration

About the Program
Our Educational Administration Program prepares students to become highly effective instructional, school community, and administrative leaders in increasingly complex educational systems. The program offers a Master of Science in Educational Administration and a Principal Certificate for qualified students. All graduate courses are taught by faculty with doctoral degrees and experience in their area of practice. The program delivers face-to-face and online courses. Scholarships are available on a competitive basis.
Career path: If you are interested in school administration (principal, central office administrator, ect), this is the degree for you.

About Our Faculty
The Educational Administration Program at Texas A&M International University is anchored by Associate Professor Alfredo Ramírez, a veteran member of the faculty and an expert in school administration and leadership at the district and site levels. Additional faculty include Assistant Professor Lourdes Viloria, a former principal in the United Independent School District and expert in working with diverse students populations and Dr. Stephen Benigno, an administrative specialist at all levels of K-12 administration. All faculty members work closely with administrative candidates to develop a broad base of knowledge and expertise in the field of educational administration.
Program Admission Requirements
Apply via applytexas.org
Submit official transcript(s) from every college or university attended
Submit a one to two page essay
Have cumulative GPA 2.75
Submit Résumé and two Professional Letters of Recommendation
International students must also submit:

Official Certificate of Graduation
TOEFL or IELTS scores
Financial Statement Form
Letter of Sponsorship
Bank Statement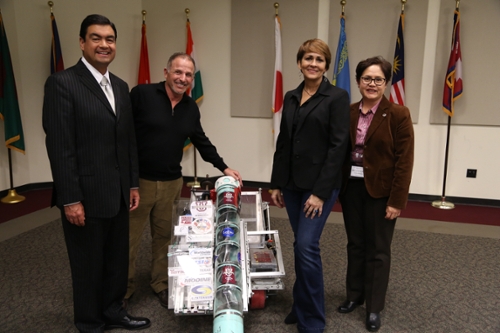 Useful Links
---
Catalog Information
This 30 credit hour program offers both a thesis and a non-thesis route.
Read more about the online Master of Science in Curriculum and Instruction with a Specialization in Educational Administration.
For both routes, students would need to take:*
EDAM 5301 - School Administration
EDAM 5305 - Organization and Evaluation of Curriculum
EDAM 5319 - Administration of School Facilities and Finance
EDAM 5320 - Principalship
EDAM 5321 - Leadership in Technology for School Adm
EDAM 5322 - Public School Law
EDAM 5325 - Instructional Leadership Development
EDAM 5327 - Advanced Problems in Supervision
EDGR 5320 - Foundations of Educational Research
EDGR 5323 - Data Driven Decision-Making in Education
Additionally, students on the non-thesis route would take EDAM 5338 - Administration of Special Programs, while those on the thesis route would be required to take EDGR 5330 - Thesis.
*Catalog information is provided for the 2016-2017 School Year, and is subject to change by catalog year. For more detailed catalog information, click for Thesis and Non-Thesis.