About the Program
The Master of Arts in Teaching (MAT) degree program is designed to prepare highly qualified professional educators who are capable of providing highly effective instruction in Texas schools, especially those serving EC-12 learners from culturally, linguistically, and economically diverse family backgrounds. The program includes an "alternative certification" pathway and a six SCH post-degree "clinical teaching" pathway.
The Master of Arts in Teaching (MAT) degree program at Texas A&M International University is carefully designed to meet the needs of South Texas schools and communities by providing eligible participants with high-quality graduate instruction, supervised school internships and clinical experiences in diverse local public school classrooms, and support for for successful completion of certification exams. All MAT courses are either online or hybrid. TAMIU provides a learning environment built on a solid academic foundation in the arts and sciences. TAMIU prepares students for leadership roles in an increasingly complex, culturally diverse state, national, and global society.
More About Teacher Certification

Both pathways include rigorous eligibility requirements, graduate coursework, teacher certification examinations, and either an extended school-based internship (ACP) or a clinical semester (MAT).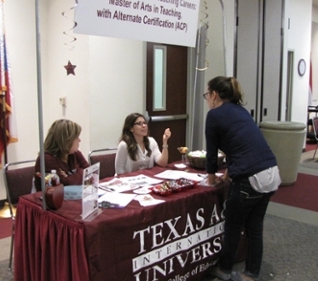 ---