Engaged in Service-Learning: Partnering with the Community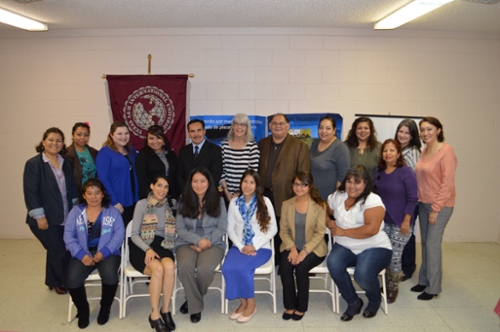 Service-learning is an educational experience where students participate in a course paired with an organized community service. This pedagogical strategy uses experiential learning to integrate academic material, service, and critical reflection to achieve academic and personal goals in addition to enriching the community. 
The courses below have integrated service-learning into their classrooms and work closely with PROF Center staff, TAMIU's Service-Learning Office.  The service-learning courses provide students not only with academic leaning but also with a sense of civic responsibility during their education in TAMIU. Service-learning opportunities enhance students' core competencies to become excellent professionals, active participants, and leaders in the community.
Service-Learning Class: Language Arts in Spanish (EDBE 4336)
Instructor: Dr. Sergio Garza
Community Partner: Consulate General of México/ Consulado General de México
Offered: Fall and Spring
The Bilingual Education Program and Consulate General of Mexico work collaboratively in the program Plazas Comunitarias. Plazas Comunitarias provides education services for adults, at the literacy, primary and secondary levels of education to the Latino immigrant population in the Laredo area. The Mexican National Institute for Adult Education developed the adult education program and lifelong learning initiative (INEA by its Spanish initials).
Students in this class tutor Spanish-speaking adults while acquiring academic Spanish that will be applied in their profession as bilingual educators. The service-learning partnership increases students' awareness of issues related to low literacy levels in the Spanish speaking community, support the efforts of the Mexican consulate to provide adult education to Spanish speakers, and enhances students' civic responsibility of TAMIU students participating in the program.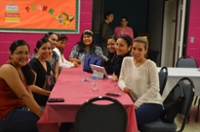 TAMIU and Plazas Students at the end of the year ceremony
Service-Learning Class: Issues in Curriculum & Instruction (EDCI 4399)
Instructor: Dr. Sergio Garza
Community Partner: Bethany House of Laredo
Offered: Fall and Spring
Bethany House of Laredo provides children a weekly learning program, Luz de la Esperanza.  TAMIU students enrolled in Issues in Curriculum & Instruction collaborate with Luz de la Esperanza by tutoring and developing a number of learning activities every Saturday during the semester.
Students in the course and staff at Bethany House of Laredo work together to create activities for children and provide them with educational tutoring needed.  This partnership allows students to practice their teaching skills while gathering a deeper understanding of issues that affect children of low income.  In addition, the students assist staff at Bethany House of Laredo to provide services for children who participate in numerous events.
 
Service-Learning Class: Clinical Practicum
Instructor: Melissa Garcia, M.S., CCC-SLP
Community Partner: Ear, Nose, and Throat Clinic
Offered: Fall and Spring
Senior clinicians in the course participate in a diagnostic team, completing screenings at the Ear, Nose, and Throat Clinic.  This course provides clinical practice to speech language pathology and audiology.  Students are able to practice their skills in diagnostics in a real-world setting by assessing clients in the clinic and providing information for parents and caregivers.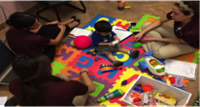 TAMIU students at the ENT Clinic Spring 2015
Service-Learning Class: Introduction to the Teaching Profession
Instructor: Dr. Sergio Garza
Community Partner: Boys and Girls Club of Laredo
Offered: Fall and Spring
The Boys and Girls Club of Laredo provide Laredo children different opportunities to learn in their after school programs, ranging from Math tutoring to game room activities to keep children active.  Boys & Girls Club of Laredo and TAMIU have an ongoing partnership in which TAMIU students provide tutoring and support services at the three Boys & Girls Clubs.  
This experience immerses future college of education students and exposes them to a real world experience as they complete 10 hours of service. Future plans between Boys & Girls Club and TAMIU include incorporating a healthy component to the after school activities to promote healthy eating habits and exercise in Laredo youth.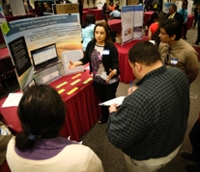 Students in the Boys & Girls Club SL Project presenting their work at the Service-Learning Expo 2015
Service-Learning Class: Multicultural/Multilingual Issues in Communication Disorders Study Abroad in Belize
Instructor: Melissa Garcia, M.S., CCC-SLP
Community Partner: Stella Maris School (Belize) and Texas A&M University Kingsville
Offered: Wintermester
This International Service-Learning Wintermester course allows students to explore leadership, learning, and service in the context of speech and language development of diverse populations.  The study abroad course partners with TAMUK and Stella Maris School, the largest special education school in Belize City, Belize.  The course presents students with the unique opportunity of performing assessments and interventions in a culturally and linguistically diverse population.  Through peer-led reflections and guided journals TAMIU students examine their experiences and clinical perspectives related to communication disorders.
Service-Learning Class: Adult Neurological Disorders (CSDO 4336)
Instructor: Rosa Robledo
Community Partner: Regent Care Center
Offered: Spring
Regent Care Center provides rehabilitation and medical services for their residents.  TAMIU students visit the center and create activities with the staff for the residents.  This enables the students to understand the communication process across the lifespan and identify language and hearing disorders.  In addition, the students are bale to implement evidence-based intervention programs and enhance their skills as their solve clinical problems.
In this course, students' combine academic instruction, service, and reflective thinking to enhance and foster their communications skills.  In class students discuss the theories and concepts of communication as they engage with the adult population and understand the effects of neurological disorders.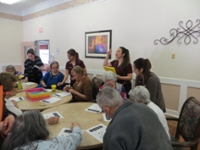 TAMIU students engaged in an activity at Regent Care
Service-Learning Class: Introduction to Audiology (CSDO 3313)
Instructor: Dr. Sumalai Maroonroge
Community Partner: Various Partners
Offered: ??
Introduction to Audiology prepared students to implement clinical skill, through sound measurement and hearing evaluations.  Dr. Maroonroge partners with various Laredo organizations to provide services and allow the students in the communication track to learn about audiology assessment.  Future plans include: testing noise levels in areas of Laredo and performing audiology tests for the Laredo community.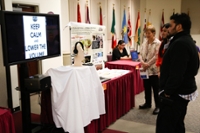 Dr. Maroongroge and students presenting their work
through a video at the Service-Learning Expo 2015
Service-Learning Course: Alternative Certification Program
Instructor: Dr. Xuesong Wang
Community Partner: H-E-B, Laredo Independent and United Independent School District
Offered: Varies
This is a professional opportunity for students completing the Alternative Certification Program. During this project, students engage in the Literacy READ 3 Program in collaboration with H-E-B.  The purpose of the program is to provide children, aged 3-5, with early literacy opportunities.  Students facilitate fun reading activities to develop children's love for reading.  In addition, students provide parents with nutritious eating information and recipes to foster healthy development.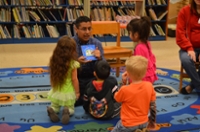 ACP student reading to children during the H-E-B Read 3 program
To learn more about Service-Learning, please contact Dr. Marcela Uribe, Director of Service-Learning, by phone at (956) 326-3133, by email at profcenter@tamiu.edu or in person in Killam Library 421.