Ventanilla de Orientación Educativa
Consulado General de México en Laredo
Misión / Mission:
El propósito de la VOE es orientar a la comunidad mexicana e hispana sobre como navegar los sistemas educativos de los Estados Unidos de América y México, así como ofrecer información sobre programas de literatura, alfabetismo, educación primaria, secundaria, preparatoria, universitaria y cursos para padres migrantes.
The goal of the VOE is to help the Mexican and Hispanic community navigate the educational systems of the United States and Mexico, as well as offer information about programs under the open education system such as literacy, primary, secondary education, preparatory and university for the Hispanic community and develop courses for migrant parents.
---
Eventos Pasados / Past Events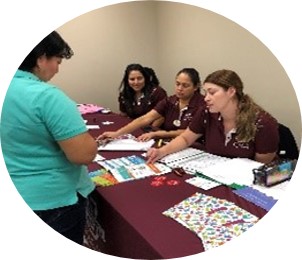 La VOE en el Consulado Móvil / VOE Mobile Consulate
Practicantes de la carrera Consejería Escolar distribuyeron información acerca de la VOE.
School Counseling interns from the TAMIU College of Education giving information about the VOE.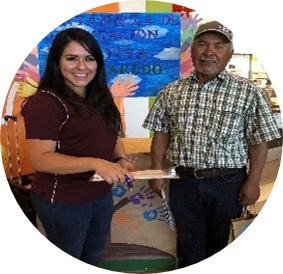 VOE en / at Outlet Shoppes of Laredo
Practicantes de la VOE distriuyeron información en Outlet Shoppes of Laredo y estudiantes de TAMIU llevaron a cabo actividades de Puerto Educativo.
VOE interns set up a booth at the Outlet Shoppes of Laredo, and TAMIU students conducted Puerto Educativo activities.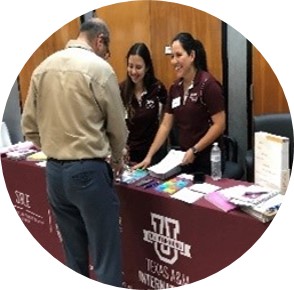 La VOE en el Consulado General de México en Laredo /
The VOE at the Consulate General of Mexico in Laredo
Practicantes de la carrera Consejería Escolar presentaron información de la VOE en el Consulado.
School Counseling interns visited the Mexican Consulate to present information about the VOE.
---
Programas Actuales / Ongoing Programs
MEXTERIOR
Información relevante en materia educativa para aquellos mexicanos que viven en los Estados Unidos y desean reincorporarse al sistema educativo en México. 
Relevant information on educational material for Mexican citizens who live in the United States and desire to reincoporate into the Mexican education system.
MÉXICO X

​
Plataforma de cursos masivos abiertos en línea y de alto valor educativo, impartidos por relevantes instituciones educativas del país, gratis para las y los mexicanos.
A massive platform of courses that are open to the public, online, and of high value - relevant to educational institutions from Mexico, free for Mexicans and people from Mexico.
IME-BECAS

​
Estímulos económicos destinados a estudiantes mexicanos o de origen mexicano residentes en los Estados Unidos y matriculados en: Educación Superior o Educación para adultos
Economic stimulus designed for Mexican students or students of Mexican origin residing in the United States who have enrolled into higher education or into continuing education.
LIBROS DE 

TEXTO 

GRATUITOS

​ /
FREE TEXTBOOKS
Instituciones educativas, escuelas, distritos escolares, bibliotecas públicas, centros comunitarios o asociaciones de padre de familia podrán participar como beneficiarios de la Donación de Libros en Español.
Educational institutions, schools, school districts, public libraries, community centers, or parent/family associations can participate as beneficiaries of donations of books in Spanish.
ESTE ES MI 

MÉXICO

​ /
THIS IS MY MEXICO
El Concurso de Dibujo Infantil "Éste es mi México", organizado por el Instituto de los Mexicanos en el Exterior, promueve la cultura y la participación artística de los niños de origen mexicano u otra nacionalidad.
The juvenile art competition "This is My Mexico," organized by the Institute of Mexicans Abroad,  promotes the culture and artistic participation of boys and girls of Mexican origin or of other nationalities.
PLAZA 

COMUNITARIA

​ /
COMMUNITY PLAZA
Espacio en donde los jóvenes y adultos hispanos pueden recibir instrucción en español de alfabetización, primaria y secundaria, en un ambiente confiable.
A space in which young Hispanic adults and youths can receive instruction in Spanish for literacy in elementary and secondary education, in a safe and comfortable environment.
Holding Institute Community Center
1102 Santa Maria Ave.
Laredo, Texas 78040
EDUCACIÓN A DISTANCIA /
DISTANCE EDUCATION
MÁS BECAS​ /
MORE SCHOLARSHIPS
The Ministry of Public Education (SEP) published a digital library for children and youth, called "Reading Crews". The titles of this library are part of the heritage of the National Council for Educational Development (CONAFE).
La Secretaría de Educación Pública (SEP) publicó una biblioteca digital infantil y juvenil, denominada "Tripulantes de la Lectura". Los títulos de esta biblioteca son parte del acervo del Consejo Nacional de Fomento Educativo (CONAFE).
#TripulantesDeLaLectura #YoLeoEnCasa #QuédateEnCasa
---
"TAK-TAK-TAK Everything is an Adventure" is an educational platform that contains various online games for children that allow them to learn at the same time.
 "TAK-TAK-TAK Todo es una Aventura" es una plataforma educativa que contiene diversos juegos en línea para niños que les permiten aprender al mismo tiempo.
---
The non-profit organization CommonLit published a Reading Comprehension Summer Challenge. The challenge is free. On this portal you will find texts in English and Spanish with content for children and adults:
La organización sin fines de lucro CommonLit publicó el Desafío de Verano del portal de Comprensión Lectora. En este portal encontrarán textos en inglés y español con contenidos para niños, niñas y adultos:
Desafío de Lectura de Verano de CommonLit
---
---
InformaciÓn de Contacto / Contact Information
CONSULATE GENERAL OF MEXICO
Juan Carlos Mendoza Sánchez
956.723.6369
Directorio
1612 Farragut St.
Laredo, TX 78040
VOE at TAMIU
Dr. James O'Meara
Dean of the TAMIU College of Education
956.326.2420
james.omeara@tamiu.edu
TAMIU - Pellegrino Hall Rom 301