Asian American and Pacific Islander Heritage Month
May 2021
Due to the COVID-19 Pandemic, all events for this Heritage month have gone virtual or been cancelled. Although unable to meet in groups, we are dedicated to celebrating the culture Asian Americans and Pacific Islander Americans bring to our campus. 
Asian Americans and Pacific Islander Americans have heavily influenced and made tremendous contributions to the history, culture, and achievements of the United States. For the duration of the month of May, we celebrate these individuals and the diversity they add to our nation and Dustdevil family.
Heritage Spotlights
Our Dustdevil Diversity Spotlight Series for AAPI Heritage include interviews by Dr. Momen and Dr. Torregosa. For the most recent Featured Spotlight and a full list of previous interviews, visit our Dustdevil Diversity Spotlight Series page.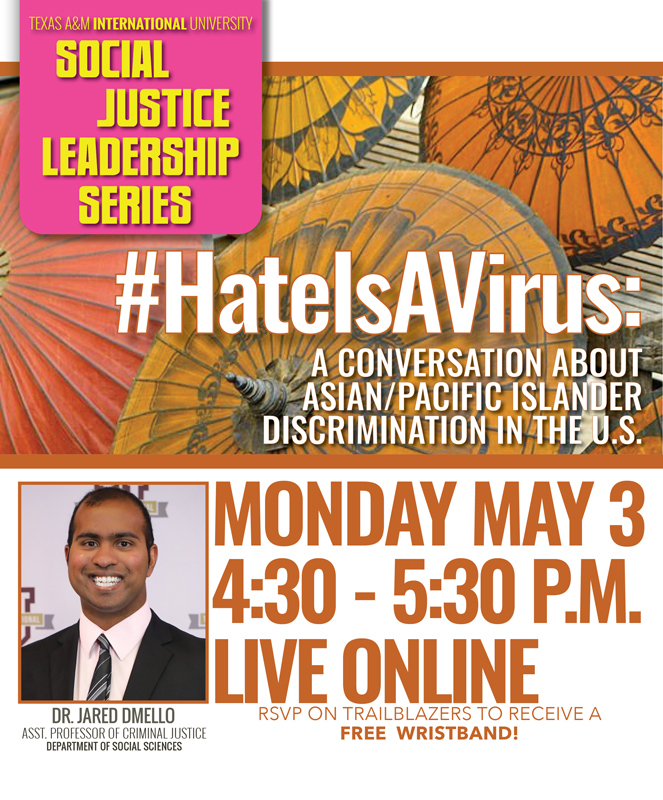 #HateIsAVirus: A Conversation About Asian/Pacific Islander Discrimination in the U.S.
Monday, May 3, 2021
4:30 - 5:30 PM CST
Social Justice Leadership Series is honoring Asian/Pacific Islander/Desi American (APIDA) Heritage Month! Several TAMIU community members will be speaking about power, privilege, and oppression within the APIDA community. Guest Speaker Dr. Jared Dmello, Assistant Professor of Criminal Justice at TAMIU, will be presenting about case studies regarding the East Asia Japanese Internment Camps, Native Hawaii's Beyond Race (his experience as a university student in Hawaii), and Anti-Asian Sentiments (why information matters).
In addition, Ms. Lorissa Cortez, Director of Equal Opportunity and Diversity, will speak about TAMIU resources and what to do if you encounter discrimination or harassment. To conclude the event, Delta Xi Nu Multicultural Sorority will speak about student activism on campus and their experience with creating inclusive student events.
Addressing Asian Bias and Hate: Lessons Learned
Froday, May 28, 2021
2:00 - 3:00 PM CST
The event is free and open to the public and will be presented on TAMIU's Facebook Site.
In observance of Asian American and Pacific Islander (AAPI) Heritage Month, Texas A&M International University (TAMIU) will present a virtual panel discussion that addresses the recent surge in anti-Asian hate reports in the United States.
During the discussion, panelists will delve into questions about the current situation surrounding anti-Asian hate and bias and how this eventually affects those in the AAPI communities and people of all backgrounds. They will also explore the origin of recent reports and how everyone can become better informed and aware about this issue.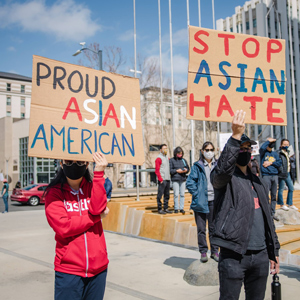 Cinema
The Farewell (2019)
Columbus (2017)
Lion (2016)
Refugee (2003)
In Between Days (2006)
Readings
Kafka on the Shore
by Haruki Murakami
Ilustrado, Miguel Syjuco
Goat Days, Benyamin
Three Sisters, Bi Feiyu
The White Tiger, Aravind Adiga
Resource for Today's Challenges