Posted: 08/19/2010
Ramirez Named TAMIU's
Vice President for Student Success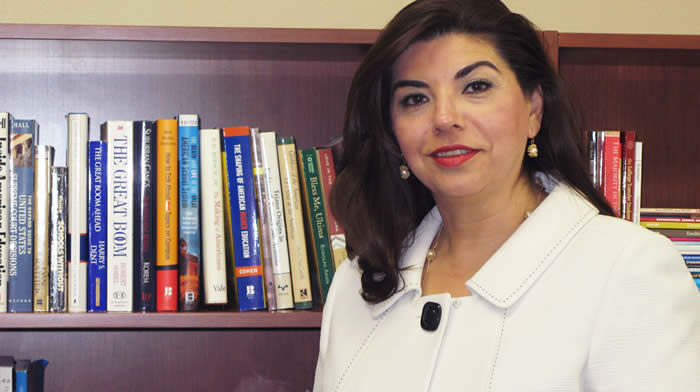 TAMIU Vice President for Student Success, Dr. Minita Ramirez, oversees the University Success Center and units including admissions, financial aid, recruitment and school relations and other student service units.
Dr. Minita Ramirez, previously dean of Student Success at Texas A&M International University, has been named Vice President for Student Success.
Dr. Ramirez's appointment was approved by The Texas A&M University System Board of Regents at their July Board meeting. Her position becomes effective Sept. 1.
In her new position, Ramirez will oversee operation of the newly opened, $25 million University Success Center and units including Admissions, Financial Aid, Recreational Sports, Recruitment and School Relations, Student Affairs, Student Counseling Services, Student Health Services, Athletic Compliance, and the University Registrar. In addition, she will work in tandem with Academic Support Services and Residential Life to plan and manage a strong freshman-year program and a safe living environment for all students.
TAMIU President Dr. Ray Keck said Ramirez's appointment is crucial as the University continues to experience unprecedented growth with its enrollment having surpassed 6,000 students and an incoming freshmen class, which exceeds 1,000 students.
"Since she joined the administrative staff as Executive Director for Enrollment Management in 2001, Dr. Ramirez has truly transformed the way TAMIU understands outreach, recruitment, retention and student success," Dr. Keck said, "Our continuing strong outcomes in the first two parts of Closing the Gaps, Participation and Success, are a direct result of her leadership, skillful planning and unerring knowledge of the community we serve."
Ramirez said she feels honored by the appointment.
"It is an honor and a privilege for me to serve the TAMIU community," Ramirez said, "Equally satisfying is the awesome opportunity to work alongside people that are dedicated to making this University a life-altering experience for the students of TAMIU and to be a part of the greatest change agent of Laredo's history."
Ramirez joined TAMIU in 2001.
A Laredo native, Ramirez holds her doctoral degree in educational administration from Capella University. Her master's in education administration was earned at Texas A&M University-Kingsville. She received her bachelor's degree in secondary education (political science and history) from TAMIU.
Earlier this year, Ramirez was selected to join an elite network of more than 2,500 women as a member of the Leadership Texas Class of 2010. She was the only Laredoan selected for this year's Class by the Foundation for Women's Resources.
Active in community service, Ramirez served as member of The U.S. Department of Education Negotiated Rulemaking Committee – Higher Education Reauthorization Act Team V in 2009. She also served as Washington Birthday Celebration Association President in 2008 and was Association member from 1997 to 2009. She has been a Society of Martha Washington member since 2007. Other organizations she has served as member include the International Good Neighbor Council, Laredo Boys and Girls Club, Laredo Commission for Women, Laredo Chamber of Commerce Education Committee and Border Olympics.
For more information, please contact the Office of Public Relations, Marketing and Information Services at 326.2180.
University office hours are 8 a.m.-5 p.m. Monday-Friday.
---
Journalists who need additional information or help with media requests and interviews should contact the Office of Public Relations, Marketing and Information Services at prmis@tamiu.edu