Posted: 3/31/11
New TAMIU Scholarship Endowment
Honors Beloved Dr. Ruby South Lowry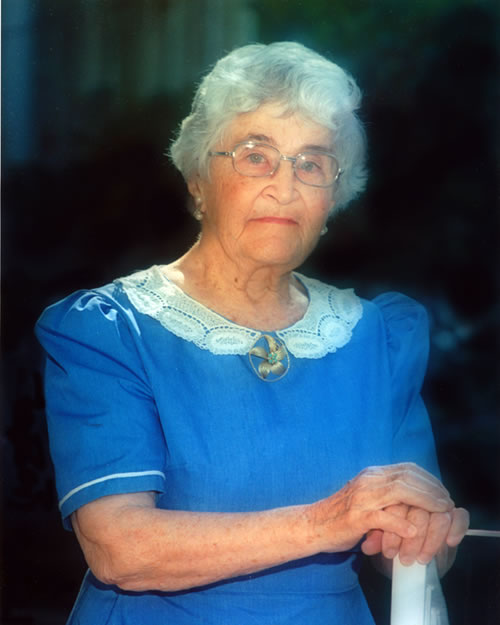 Dr. Ruby South Lowry

(1898-1996)
In life, the late Dr. Ruby South Lowry was a healer of many.  Now, a new scholarship endowment at Texas A&M International University (TAMIU) will help to insure a new legacy of healers can follow her historic lead.
The Dr. Ruby South Lowry Endowed Scholarship Endowment will provide student scholarships for pre-med or pre-veterinarian students at TAMIU.  It is funded by a generous gift from Dr. Lowry's grandson, local banker and rancher Albert T. Lowry and his wife, Diana S. Lowry.
Lowry said he hopes that TAMIU students are inspired by his grandmother's example and that they too chart their own history in medicine, perhaps in Laredo.
"My grandmother was a true trailblazer in medicine.  As a woman and a doctor, she set a historic standard for care here.  Our hope in providing this Scholarship is that her legacy lives on here or elsewhere.  We believe this is the best way to honor her and encourage others to follow her lead," he explained.

The first TAMIU student and graduate to receive the Lowry Scholarship is Rene Camacho '10, who is currently attending medical school at The University of Texas Health Science Center at San Antonio. 
Remembering Dr. Ruby South Lowry
The family of Dr. Ruby South Lowry, the beloved late Laredo doctor, has provided a special Scholarship Endowment at Texas A&M International University in her memory to provide pre-med or pre-vet TAMIU student scholarships.  Left, top to bottom are Dr. Ray Keck, TAMIU president, and Rene Camacho '10 TAMIU scholarship recipient currently attending medical school at The University of Texas Health Science Center at San Antonio.  Right, top to bottom are Albert T. Lowry, Dr. Lowry's grandson, and his wife, Diana H. Lowry, who have generously provided the endowed scholarship.
Ruby Belle South Lowry was born in 1898 in San Marcos.  One of the first women admitted to Rice University, she did so in part with the assistance of a $250 scholarship provided by the Daughters of the American Revolution, then the first scholarship awarded to a woman at Rice. 
Lowry graduated from Rice in 1919 with a bachelor's degree, and received her medical degree in 1928 from the University of Texas at Galveston.  She married Willis Edward Lowry, and the couple had five children.  When her husband died unexpectedly when the oldest child was 11, she moved to Laredo and set up a medical practice.
Lowry was also the school doctor for the Laredo Independent School District. By the time she retired from the medical profession at age 88, she had delivered over 20,000 babies. She proudly maintained a file with the names of every baby she delivered. While a much-loved and talented physician, it was not unusual to see Lowry respond to a call for help with an animal delivery, illness or injury throughout Laredo and Webb County. 
Deeply committed to her adopted home, she was active in a number of organizations, and the Washington's Birthday Celebration Association named her a Parade Marshall.  In 1995, The Laredo Morning Times named her one of five "Women of the Year."
Prior to her death in April 1996, she returned to the Rice campus in 1995 to attend a meeting of the John McKnitt Alexander Chapter of the Daughters of the American Revolution.  Then 97, she stood and proudly thanked the DAR for the scholarship that she said changed her life in 1919.
Student recipients of the new TAMIU Scholarship must meet federal guidelines for financially disadvantaged student status, have graduated from a high school with not less than a 95 average, maintain a minimum of a 3.5 cumulative average while at TAMIU, plan a career in medicine with appropriate acceptance into the Early Medical School Acceptance or Joint Admissions Program or veterinary medicine, and maintain TAMIU standards in order to renew the Scholarship.
For additional information on the Dr. Ruby South Lowry Scholarship at TAMIU, please contact Candy Hein, vice president of Institutional Advancement at TAMIU at 956.326.GIVE (4483), email candy.hein@tamiu.edu, visit offices in the Sue and Radcliffe Killam Library, suite 261 or click on tamiu.edu
---
Journalists who need additional information or help with media requests and interviews should contact the Office of Public Relations, Marketing and Information Services at prmis@tamiu.edu