Flipped Classrooms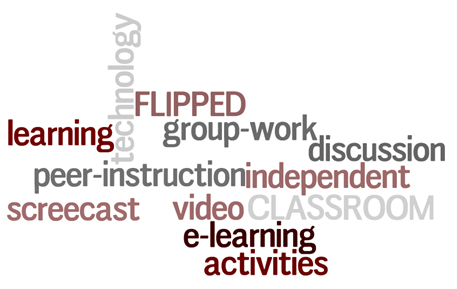 A pedagogical model that has gained attention is flipped classrooms, a subgroup of blended learning teaching model. Students learn content by having lectures presented through videos/presentations outside the class, and typical homework is done in the classroom.
In a traditional lecture setting a topic is introduced in class, and students are expected to explore deep-thought questions by completing homework assignments alone. However, students may feel discouraged to search for answers or clarification to these difficult questions. In flipped classrooms students are introduced to topics outside of class, leaving class time to explore hard concepts  Flipped classrooms promote in-depth discussion among students and instructor; providing analytical thinking skills and new perspectives on material.
Since material is introduced outside the classroom with online media, students have the option to review confusing concepts. Video lectures/presentations can be rewound, paused, and viewed multiple times until the student understands the material. Flipping the classroom can be a useful tool employed in large classes. Students can form groups to discuss material and have on-time feedback from the instructor.  
Traditional Approach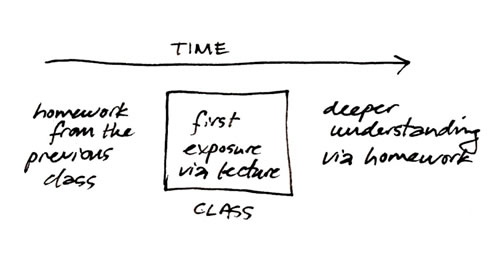 Flipped Approach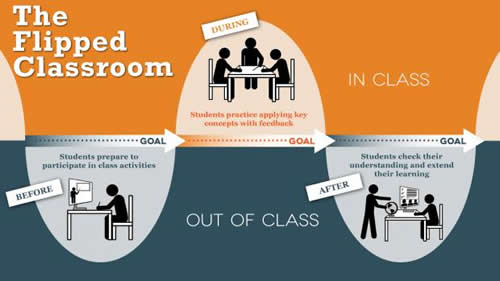 Flipped classrooms should not be confused with an online course. Although students are presented with online videos/presentations, the main interaction between the students and the professor takes place during class time. Students are required to be  prepared for class by discussing material presented outside of class with the professor and fellow classmates.
Flipped classrooms address application, analysis, synthesis, and evaluation of material during class time Students address knowledge and comprehension outside of class, reaching a higher level of learning in Bloom's Taxonomy.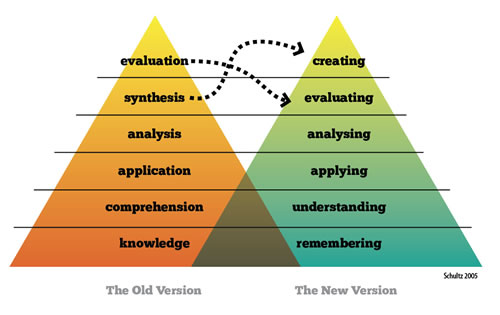 Bloom's Taxonomy
Teaching Techniques for Flipped Classrooms
Socratic seminars give students the opportunity to think critically in discussion settings.  (commonly used in classes outside the STEM field, like psychology, sociology, and humanities)
Socratic seminars are not  typical lectures, professor has a minimal role facilitating discussion. The focus is on the students asking and answering questions based on the reading material.
Students take a lead role in keeping the discussion going by providing their insight to the topic in question and getting feedback from others. This allows critical thinking since students need to support their point of view with ideas previously learned. In addition, students are presented with different perspectives from other students.
Aim of lecture is to have students use their prior knowledge to understand a new concept as a group.
Just–in-Time Teaching is a strategy where the instructor addresses gaps and misunderstandings from previous lectures and homework assignments. Students have the opportunity to ask clarification on previously covered material before a class meeting by submitting questions online, or by completing online assignments. Professors are able to see what students find confusing and accommodate an upcoming lecture just-in-time. Reviewing challenging topics before introducing new material leads to effective learning.
Peer instruction allows professors to receive feedback from students during class time. After a question/problem is presented, students form groups to discuss their answers and ideas. Students are able to see different perspectives and ways to approach a problem. The professor can supervise discussions and clearly identify challenging concepts. This technique promotes students to share ideas with others, which leads to a deeper understanding. Traditional lectures may not promote students to think critically about a topic; however, when students can share their opinions with others they truly engage in the material.
*Picture references:
Bruff, D. (2013). The Flipped Classroom: A Framework for Student Learning. Retrieved January 27, 2014 from:
http://www.slideshare.net/derekbruff/flipped-classroom-25247239
The Flipped Classroom. (n.d.) Center for Teaching + Learning.
Retrieved November 15, 2013, from :
http://ctl.utexas.edu/teaching/flipping_a_class/what_is_flipped