Hybrid Courses
Hybrid, or blended classes integrate face-to-face lectures with online instruction to deliver course content.
Hybrid learning was introduced as a solution to scheduling conflicts in universities caused by increase in student enrollment. Hybrid learning courses allow more classes to meet in the same classroom on different dates. In addition, Hybrid classes provide diversity for different learning styles.
.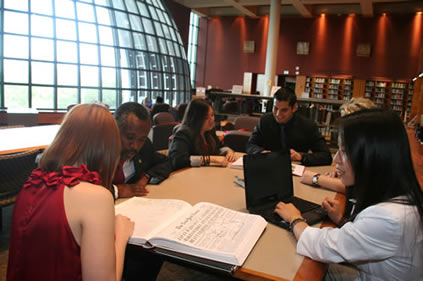 These classes allow students to set their own pace for the online portion of the course, and allow deeper understanding in the traditional lecture of the course.
Hybrid classes give nontraditional and traditional students the opportunity to increase their learning with the flexibility the class offers. This is a main difference between a typical online course where students do not meet with the instructor. In a hybrid learning class, students have the opportunity to interact with the professor and fellow classmates online and in lecture.
The online portion of hybrid classes should not be treated as a separate component of the class, instead is it should be integrated to the lectures. There are different forms to integrate technology into the class for a range of subjects.
.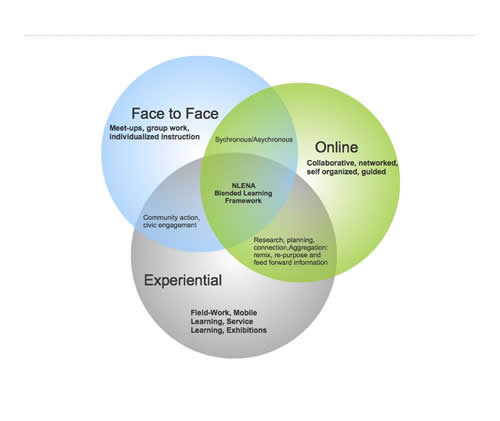 Developing a Hybrid Course
Develop a storyboard to arrange interaction occurring in face-to-face (F2F) and online portion of the class. The content of the online portion should continue into the F2F interaction, connecting previously introduced ideas.
Develop a course that is learner-centered; providing content in an efficient way.
Create groups online and in F2F lecture to involve students at all times.
Be specific in activities performed: let students know what is expected from them,  what they can expect from you, the interactions that will take place in online and F2F, and  grading procedures.

Create activities online that students can research to discuss during F2F, creating active discussion.
Develop FAQ on online course content. This will allow students to post questions and receive answers from others.   
Have quizzes during F2F lecture over content viewed online before class discussion begins to check for online participation.
Use adaptive release in online portion of the class, where new material is not available until students meet specific requirements. For example, students need an 80% on an online quiz in order to view new material. This ensures that students are understanding content before new ideas are introduced.
 
*Picture references:
Blended Learning. (2011) Networked Learning Ecology North America.
Retrieved January 15, 2014, from: http://www.nlena.net/wp-content/uploads/2011/04/Blended_Learning_NLENA.png