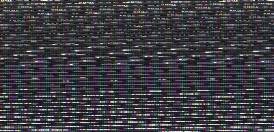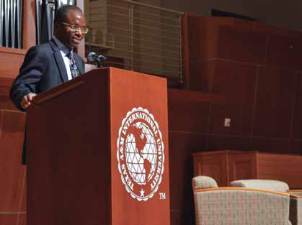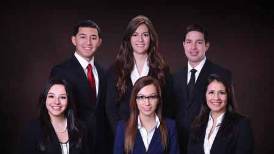 The notion that the horrors of one's childhood can
inspire others was central to author Mark Mathabane's
visit to TAMIU this Fall. His bestseller, "Kaffir Boy:
The True Story of a Black Youth's Coming of Age in
Apartheid South Africa," was the Fall Freshman Read.
His campus visit shared a stunning tale with the potential
to hopelessly embitter and handicap many a heart and
mind. Instead, it offered sweet hope and promise for all.
Mathabane praised the students for their passionate
interest, but reminded them of their responsibility as
"What a remarkable opportunity you have to study
at this University, a University whose mission is so
powerfully reflected its name: International. So many
yearn to have the opportunities that are presented to you
daily," Mathabane said, "but the priviledge available
to you comes with a responsibility: you must make a
difference in the world as its future leaders."
As part of the program, a select group of students
will travel to South Africa, including: Alexis Charles,
Alexzandra Flores, Ana García, Tirza Guerra, Lauren
Gutiérrez, Arely Hernández, Jihan Kuri, Rebekah Kawas,
Trevor Neeley, Cristina Olivares, Rebekah Rodríguez,
Juan Ruiz, Alexa Vázquez, Melissa Vázquez and Leah
11
Author's Story,
Visit Inspires, Galvanizes
TAMIU Students
Six TAMIU Students
Selected for Harvard's
This summer, six TAMIU students participated in the
prestigious Latino Leadership Initiative (LLI) at Harvard
Kennedy School's Center for Public Leadership (CPL)
in Cambridge, MA, marking the fourth year TAMIU
students have been selected for the program.
The students, Eduardo Castillo, Beatriz González,
Leslie Martínez, Jesús Arnulfo Vázquez, Karina Vidal
and Lorena Zapata, were among 42 students chosen
After a week in Cambridge, students work in
teams with faculty and administration from their home
university to design and implement a community service
"We are enormously proud of our students, and of
all that LLI has been able to accomplish in the four
years since Entravision co-founder and chairman Walter
Ulloa's commitment sparked this initiative," said Andy
Zelleke, LLI faculty director and senior lecturer at
Coca-Cola is the lead sponsor of this year's initiative.
Other supporters include seed donor Entravision
Communications; four-year sponsors TAMIU, Univision,
Southwest Airlines, and the Walt Disney Company; as
well as TimeWarner. Local support for TAMIU's program
is generously provided by Eduardo Garza Robles.
CPL was established through a generous gift from
the Wexner Foundation. It seeks to advance the frontiers
of knowledge about leadership through research and
teaching. It is equally committed to broadening and
deepening the pool of leaders for the common good
through co-curricular activities.
South Africa bound!
Top from L to R: Eduardo Castillo, Karina Vidal, Jesús Vázquez
Bottom from L to R: Leslie Martínez, Lorena Zapata, Beatriz González