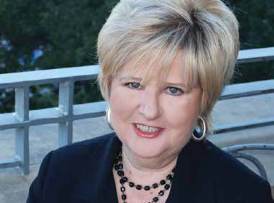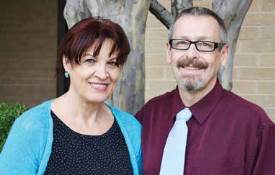 There's a new nurse in charge. Dr. Glenda C. Walker,
new dean at TAMIU's College of Nursing and Health
Sciences and Dr. F. M. Canseco School of Nursing, joined
Fast-paced and cheerful, she brings a wealth of
teaching, research and collaborative community nursing
experience to the College, bringing additional depth to one
of TAMIU's most popular major areas.
She says she is both humbled and excited about the
College of Nursing and Health Sciences and impressed
with both students and faculty.
New Nursing Dean
Brings Wealth of Experience
for TAMIU Students
Two TAMIU faculty, who are also a husband and wife
team, are combining their expertise in Spanish and political
science to lead a group of 18 students on study abroad
classes in Chile and Argentina in December.
Dr. Lola Orellano-Norris, assistant professor of
Spanish, and Dr. Jim Norris, associate professor of political
science, will teach their interdisciplinary classes, "Spanish
and Culture for the Professions," "Latin American Political
Systems," and "Undergraduate Research in Political
Science:DemocracyandDemocratization inLatinAmerica"
to undergraduate students through TAMIU's Study Abroad
program from Dec. 27 to Jan. 15.
Dr. Orellano-Norris said that she and Dr. Norris, who
participated in theUniversity'sReading theGlobe program's
travel to Chile in 2011, wanted to teach classes that blended
their disciplines and gave students the opportunity to learn
about Latin America and the Western Hemisphere.
"The majority of our students are Hispanics," she said,
"This program affords them the opportunity to see beyond
México and learn about other countries and cultures in
Latin America that have many interesting facets. Chile and
Argentina are both fascinating countries with rich literary
Dr.Norris said that the twocountries arealso interesting
politically since they are relatively new democracies.
"They are settling into their new role and they have,
compared to the past, booming economies, which is
interesting and important," he said.
Both faculty members said they hope to offer their
Study Abroad classes every year since they have seen a
strong interest in them among students.
Two TAMIU Faculty Lead
Study Abroad Classes
to Chile, Argentina
It's a terrific College, poised for
growth and with a gifted faculty
finely attuned to real-world
nursing and its challenges.
Dr. Walker
"It's a terrific College, poised for growth and with
a gifted faculty finely attuned to real-world nursing and
its challenges. The students are bright, industrious and, I
believe, among the most impressive nursing students I've
encountered. I'm humbled by the opportunity to lead the
College forward, and very eager to do so. I am especially
excited to continue our early embrace of technology and
expand our online capabilities," Dr. Walker explained.
Originally from Fyffe, AL, Walker was most recently
director of Stephen F. Austin State University's School of
Nursing. She's also served as associate dean for Clinical
Affairs and Community Services for the University
of Texas Health Science Center (UTHSC) School of
Nursing, Houston, and director of nursing research, a joint
appointment with UTHSC, at the Harris County Psychiatric