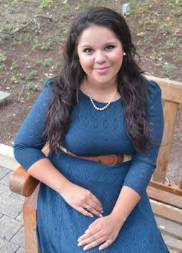 Stephanie Hernández
Has adapted (somewhat) to the cooler climes
of Indiana and her uplifting work with Teach
for America. Her parents are tremendously
proud of her, as always, and looking forward
to her visit over the holidays. And yes, she's
pursuing a graduate degree too.
Jorge and Christina
Nazarín
Opening his specialty running store,
Momentum Running Co., has sparked more
interest in running in Laredo's running
community, Jorge is convinced. He hosted
a benefit 5K Run for the Alumni Association
earlier this year. Christina is also enjoying
her work with Laredo's Main Street Program
aimed at revitalizing downtown. And then
there's their joint project…their first child is
Lucero De La Fuente
After acceptance into the Communication Disorders
graduate program at Texas State University, Lucero
became the only bilingual student to receive the First
Year Graduate Clinician of the Year Award. She's
finishing up her degree and gets to see brother Alex
(left) when not studying.