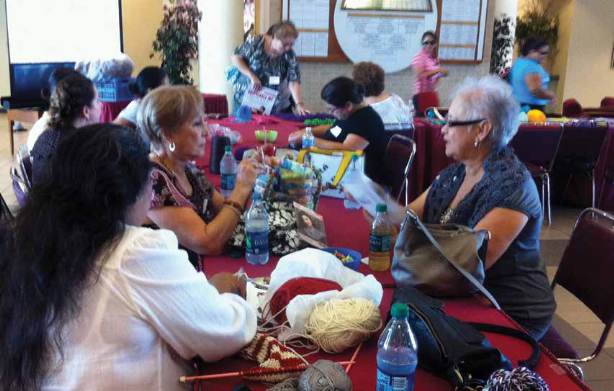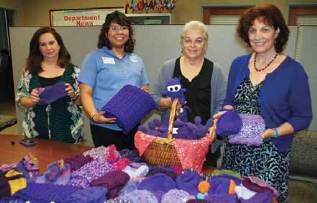 For the second year in a row, the Texas A&M International
University Knit & Wit Society invited the public to share in
their enthusiasm for knitting and crocheting at the TAMIU
Knit and Crochet in Public Day in June.
The TAMIU Knit and Crochet in Public Day
was a part of the larger World Wide Knit in Public
Day. It was started in 2005 as a way for knitters to
get together and enjoy each other's company.
Members of the community, including an
8-year-old boy, his younger sister, a few teenagers,
and novice and expert knitters and crocheters,
joined Knit &Wit Society members in the Student
Center Rotunda as they worked on their knitting
On display were several items Society
members knitted and crocheted for the Purple
Stitch Project, aWeb-based charitable organization
for babies, children and teens with epilepsy. The
group donated a total of 226 items which included
toys, scarves, hats, booties and several other items.
In the past, the Society has made numerous items for
several charitable projects, including "100 Hats for 100
Kids," "Caps for Good," and scarves for Adopt a Native Elder
TAMIU Knit & Wit Society
Marks World Wide Knit in Public Day
Gabriela Lozano, Marianita Hernández, Dr. Francis Rhodes
and Dr. Lola Norris.