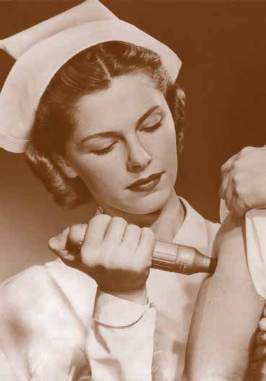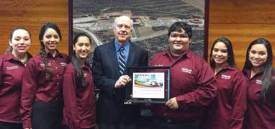 TAMIU Students Documenting
Hispanic Nursing History Here
They are part of our healing and always a part
of our continued health. They are nurses and their
stories the focus of a student research project at Texas
A&M International University looking at the history and
scope of Hispanic nurses in South Texas.
Dr. Glenda Walker, dean of the College of
Nursing and Health Sciences' Dr. F. M. Canseco
School of Nursing, said the project is ambitious, but
"Our students and graduates stand on the
shoulders and follow the footsteps of some amazing
nurses in South Texas. Our hope is to gather their
oral histories and begin a review of literature to help
initiate a living history of Hispanic nurses here," Dr.
Walker is asking South Texas Hispanic nurses
who contributed their skills to military service or war
efforts, public health nurses, hospital and emergency
services nurses or clinicians and nursing educators/
researchers who paved the way for today's nursing
students and professionals to be part of the project.
"We know that many of these nurses are still
vibrant and want very much to document their history.
Our students will visit with the nurses and explore their
history with them," she said.
For more information, contact Dr. Walker at
TAMIU Students Get Top State
Special Olympics of Texas Service Award
Texas A&M International University's (TAMIU) College of Education students received state-wide
recognition from the Special Olympics of Texas (SOTX) at a presentation in College Station, TX.
The students, primarily those in the TAMIU Special Education and Communication Disorders programs,
were selected to receive the Outstanding Service Award for a Civic or Service Organization for SOTX.
Dr. Randel Brown, TAMIU associate professor of education and long- time Special Olympics volunteer, said
the recent Award brings recognition to TAMIU at the state level.
"I'm very proud of what they (students) have done," he said, "We were nominated by our local Area 21
Special Olympics office. There were over 140 nominations in this competition and our students were selected at
Student José Salas said receiving the Award was
"It was really inspiring to receive an award that
recognized our initiative. But we have all agreed that
this is not the end--we want to continue to support
SOTX and be worthy of awards that recognize the
importance of serving your community," he said.
Among activities the TAMIU students were
involved in that benefited Special Olympics were the
Polar Plunge, Special Olympics fall and spring game
participation and various benefit bowling events.
All proceeds raised provide year-round sports
training and competitions for 1,409 Special Olympics
athletes in the Laredo area.

President Ray Keck congratulates students from TAMIU's College of
Education on receiving the Outstanding Service Award for a Civic or Service
Organization from Special Olympics of Texas. Left to right: Rosalía Zapata,
Damaris Cisneros, Jessica Porras, Dr. Keck, José Salas, Nora Gaona and