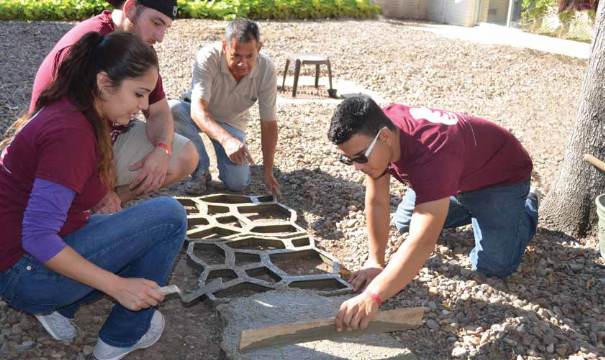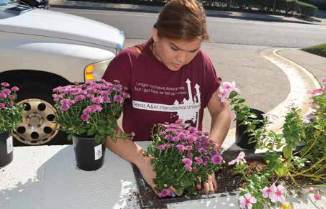 TAMIU's Make a Difference Day Celebrates
Volunteerism, Positive Community Impact
Texas A&M International University and its students are
making a positive impact on their community one hour at a time
through volunteer undertakings and innovative partnerships with
non-profit organizations.
As part of Make a Difference Day, TAMIU's designated day of
service to the community in October, 213 TAMIU students and one
parent donated a total of 770 service hours to the Ruthe B. Cowl
Rehabilitation Center, a local facility that provides rehabilitation
services to individuals with disabilities.
Students helped make various areas of the Center more
inviting for children and families by
painting walls in vivid colors, cleaning
office spaces, planting flowers in the
Center's garden and mixing concrete to
"Over 1,000 families will benefit from
this service project, which was done in less
than four hours," said Mayra Hernández,
TAMIU Office of Student Conduct and
Make a Difference Day also marked
the signing of a Memorandum of
Agreement (MOA) between TAMIU and
seven local community and humanitarian
Hernández said the Agreement will
allow TAMIU students to connect their
academic goals to their professional ones
through practical skills gained during
internship opportunities at the partner
For more information, please
contact Hernández at 326.2288, e-mail
located in Student Center, room 226D.
TAMIU students Miguel San Miguel, Yadira Ramírez
and Roger Hernández build a new pathway with
TAMIU parent Guadencio Moya at the Ruthe B. Cowl
Ilse Ávila helps create a flower bed as part of her "Make A
Difference Day" contribution.