A. R. Sanchez, Jr. School of Business
M i s s i o n G o a l s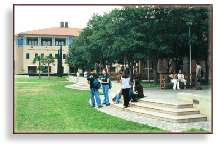 Goal 1: Recruit, Retain, & Graduate High Quality Undergraduate and Graduate Students.

Goal 2: Faculty and Staff: Provide a collaborative educational environment that supports faculty and staff initiatives of the A.R. Sanchez, Jr. School of Business.

Goal 3: Teaching and Learning: Enhance the educational environment by promoting excellence in teaching and learning.

Goal 4: Research : Strengthen and expand faculty research and scholarship to address regional, national, and global issues.

Goal 5: Service : Improve the quality of life for citizens and residents of the South-West Texas region, the State of Texas, and the national and international community by providing service and outreach activities.

Goal 6: Identify, obtain and develop, and retain human, financial and physical resources to promote growth and efficiencies.

Goal 7: Internationalization Develop teaching, research, and service programs to build and enhance the internationalization of the A.R. Sanchez, Jr. School of Business.