College of Education
Menu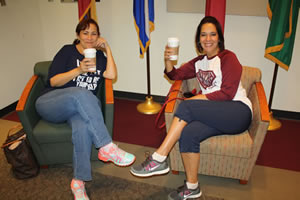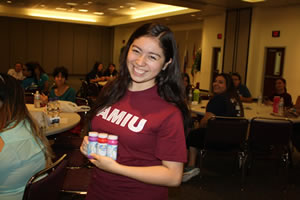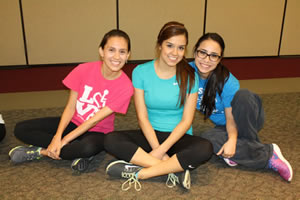 Welcome To The Communication Disorders Clinic
PROGRAM
Welcome to the TAMIU-Communication Disorders Center (CDC).  The clinic is a component of the Department of Communication Sciences & Disorders in the College of Education at TAMIU.  We are a university training program.
Since its opening in 2007, the CDC has provided services to children and adults with speech-language disorders regardless of their family's ability to pay for the services.  We serve people of all ages from the Webb County region.  Each semester the Department of CSDO trains more and more students to become service providers for children throughout the state.   
Assessment and intervention services are performed by undergraduate students under the supervision of clinical supervisors certified by the American Speech-Language & Hearing Association and licensed by the State of Texas.
Services include: Assessment and intervention of speech, language, voice and fluency disorders in children and adults.  Services are provided in English, Spanish and bilingual (Spanish/English).  Appointment times are designed by the clinic director and student clinician schedules. Every effort is made to make appointment times as convenient for the client as possible.
MISSION
The mission of the Communication Disorders Program at Texas A&M International University is to meet the needs of the university and its partner communities by providing a quality educational and clinical experience for its students.  Success will be measured by the success of the program's graduates in meeting state and national certification requirements and providing for the Speech-Language Pathology needs of the geographic region.
SERVICES PROVIDED
Services include assessment and intervention for both children and adults with all types of speech disorders, including:  Accent reduction, Apraxia, Articulation and Phonological, Fluency, Language Delay or Disorder, Neurological impairments, Language-based reading and writing and Voice disorders.
The Summer Speech-Language Camp is designed for children and young adolescents with communication disorders who can benefit from an intensive intervention program. Candidate eligibility is determined through an application process that considers the participants age, the nature and severity of the communication disorder, and the availability of services needed by each prospective applicant.
APPOINTMENTS AND FEES
The clinic follows the University calendar for treatment appointments.
Fee Schedule for Speech-Language-Hearing Clinical Services
| | |
| --- | --- |
| Speech-Language Assessment | $60.00 |
Speech-Language Therapy:

| | | |
| --- | --- | --- |
| Individual | 30 min. Session | $10.00 |
| Individual | 60 min. Session | $20.00 |
| Group | 60 min. Session | $15.00 |
| Speech Screening | | $10.00 |
All fees are due at the time the services are rendered.
A "Sliding Scale" is available for clients who can justify financial need.
ANNOUNCEMENT(S)
Hearing Loss, Improving Quality of Life
Focus of Public Presentation at TAMIU
CONTACT INFORMATION
| | | | | |
| --- | --- | --- | --- | --- |
| Texas A&M International University | | Melissa Garcia | | Office Hours |
| Communication Disorders - Billy Cowart Hall 122 | | Program Manager | | Monday - Thursday |
| 5201 University Boulevard | | Killam Library 427 C | | 9:00AM to 7:00PM |
| Laredo, Texas 78041-1900 | | 956.326.3139 | | |
| Phone: 956.326.3138 | | mpgarcia@tamiu.edu | | |
| Fax: 956.326.2429 | | | | |
| www.tamiu.edu | | | | |