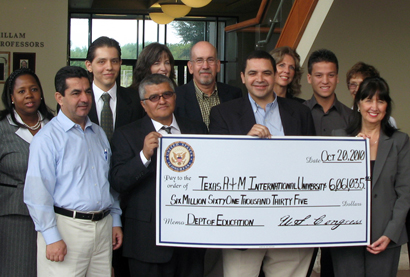 ---
OUR STORY:
       TAMIU was awarded the Title V: Engaging Sophomores federal grant from the U.S. Department of Education in fall 2010.  The program was created to address sophomore needs on campus and alleviate common stressors known as the "sophomore slump". Recent national studies have concluded that sophomores, in general, tend to feel disconnected from the college experience during their second year in school.  Therefore, generating a new approach towards sophomore success.  Our approach is to provide a collaboration between student support services to encourage student engagement at all levels.
         Sophomores can better utilize support services provided to them by Title V.  Engaging Sophomores, better known as Sophomore Success, offers student support services such as advising and mentoring, personal and career advising, tutoring, and supplemental instruction.  Each support area contains highly trained staff to provide services exclusively to sophomores.
         Apart from student services, our sophomores are offered various service- learning courses every semester to create hands-on experiences in the Laredo region.  The students enrolled in these courses has produced a positive and economic impact for the Laredo community.  Our program also provides professional faculty development such as workshops, guest speakers, and webinars to enhance pedagogical practices at TAMIU.